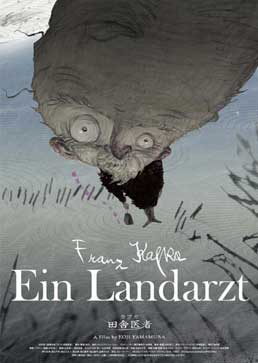 From the NFB blog:
"The NFB Mediatheque is thrilled to host a Masterclass and screening on November 13th to celebrate the work of Oscar®-nominated animator Koji Yamamura. He is the most successful auteur animation filmmaker in Japan today, and his work is internationally renowned.
This special programme, co-curated by Michael Fukushima and Marco de Blois and presented with Toronto Reel Asian International Film Festival, Montreal's Cinémathèque québécoise, the Japan Foundation, and the National Film Board of Canada, represents a small slice of Yamamura's creative output but offers a sense of his unique talent. From his first commissioned works in the early 90s, to his breakout success Atamayama/Mt. Head, through his experimentation and explorations with The Old Crocodile and Franz Kafka's A Country Doctor, this is a must-see programme for anyone craving another look at their Yamamura favourites, and new audiences interested in one of the most influential auteur animators of his generation. Yamamura himself will be in attendance for the Masterclass."
More info and an interview with the curator of this screening, Michael Fukushima, at the NFB blog.