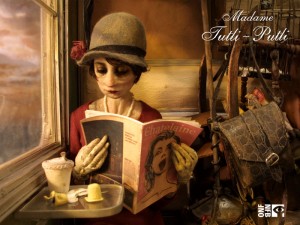 We're not done yet! Continuing with our showcase series bent on hyping the NFB's 'Get Animated!' cross-Canada screening & workshop series, that runs until this Sunday, here's Clyde Henry Production's award-sinning short 'Madame Tutli-Putli' from 2007. If you were in Montreal on Oct. 31 and not at the Stop-Motion Festival, perhaps you were at the NFB's 'Meet the Directors' where you could have met the Clyde Henrys? If so, let us know how it went!
Well, what ISN'T there to say about this film? More info on the film and the filmmakers after the award-winning film below:
oehttp://www.nfb.ca/film/madame_tutli_putli_en
'Madame Tutli-Putli', he first professional indie film from Clyde Henry Productions, the company name that the directors have used since 1997 as pro ADs and directors, is a watershed for them – winning the Best Short Narrative at the OIAF, the Petit Rail D'or and the Canal + Award in Cannes among dozens of others. It also formed the platform for the launch of 'Higglety-Pigglety Pop!' (2010), a co-production adaptation of a Maurice Sendak book developed by the NFB and Warner Bros Home Video. You can watch 'Higglety-Pigglety Pop!' at the Get Animated! screenings. It's part of the 'NFB New Releases' lineup. Don't miss it!
'Madame Tutli-Putli' is an exceptional piece of work, deserving the accolades it gets for the innovative use of media if nothing else.
I'll post some behind the scenes clips from 'Madame Tutli-Putli' below, but be sure to check out Jason Walker's site, where he outlines how he developed the method for putting live-action eyes on stop-motion puppets. "This required every trick in the book and more!" exclaims Mr. Walker on his site. Fascinating stuff.
Here's some behind the scenes stuff, courtesy of the NFB:
http://www.youtube.com/watch?v=553cCYyZEr4
http://www.youtube.com/watch?v=wvBM2tpvW8c
http://www.youtube.com/watch?v=UHO1BDClOnE