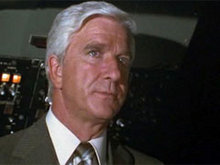 from Wikepedia: Leslie William Nielsen, (February 11, 1926 – November 28, 2010) was a Canadian-American actor and comedian. Nielsen appeared in over 100 films and 1,500 television programs over the span of his career, portraying over 220 characters.
Born in Saskatchewan, Canada, Nielsen enlisted in the Royal Canadian Air Force and worked as disc jockey before receiving a scholarship to Neighborhood Playhouse. Beginning with a television role in 1948, he quickly expanded to over 50 television appearances two years later. Nielsen appeared in his first films in 1956 and began collecting roles in dramas, westerns, and romance films. Nielsen's lead roles in the science fiction film Forbidden Planet and disaster film The Poseidon Adventure garnered him positive reviews as a serious actor.
Although his acting career crossed a variety of genres in both television and films, Nielsen's deadpan delivery as a doctor in 1980's Airplane! marked a turning point in his career, one that would make him, in the words of film critic Roger Ebert, "the Olivier of spoofs." Nielsen enjoyed further success with The Naked Gun and its sequels, based on a brief television series he starred in. His portrayal of serious characters seemingly oblivious to (and complicit in) their absurd surroundings gave him a reputation as a comedian.
In the last decades of his career, Nielsen appeared in multiple spoof and parody films, many of which met negative critical reviews but performed well in box office and home media releases. Nielsen was recognized with a variety of awards throughout his career and was inducted into both the Canada and Hollywood Walk of Fame. He married four times and had two daughters from his second marriage. On November 28, 2010, Nielsen died in his sleep of complications from pneumonia.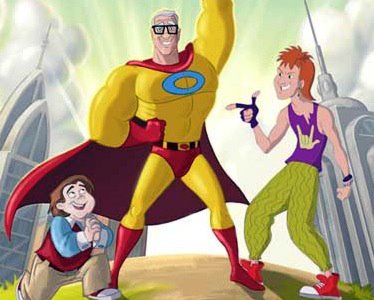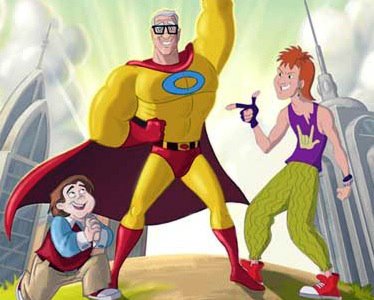 Neilsen did a considerable amount of voice work  for  animation with Ottawa studio, Lacewood.  He narrated Katie and Orbie, as well as voicing characters on shows like Pumper Pups and the titular hero in Zero-Man.