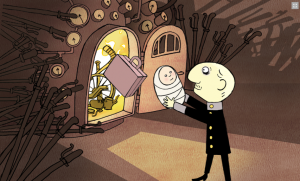 This is the last of our showcase series of the exclusive online programming for the NFB's Get Animated! series of workshops and screenings across Canada. To find the rest of them, simply go to 'showcase' in the menu bar above this post on Canadian Animation Resources and start browsing.
While the series has already run it's course through  Montreal, Toronto, Winnipeg, Edmonton and Vancouver, you can still catch screenings in Calgary and Halifax this weekend, and in community screenings in smaller towns across Canada.
Places like Williams Lake, Nelson, Kitimat, Fernie and Burnaby, BC; Whitehorse, YT; Jasper and Fort Saskatchewan in AB; Guelph and Chatham in ON; a small screening in Montreal and another in Îles-de-la-Madeleine, QT; Moncton in NB; and again in Halifax and Dartmouth in NS. Check the Community screenings page for times and locations.
It's times like these when I'm grateful for the NFB's distribution resurgence. No other theatrical distributor has managed the reach that they have with this series of Canadian animation created across this country. For a lot of people, there is simply no other way to see some of these films if they're not already listed on the NFB.CA site. The chance to meet the creators is a definite plus. I remember years ago when the Hothouse series started, some of my pals were continually frustrated by the lack of distro for the films they made there. Nice to see the NFB getting this slowly sorted out. Hopefully this is a sign of more to come. Maybe someday we'll see more films screened in front of movies at the Cineplex? I know that it's happened once or twice – I'd love to see that happen again.
ANYWAYS. To this film. 'Runaway' by Cordell Barker, who is one of my favourite directors at the NFB.
oehttp://www.nfb.ca/film/runaway
Cordell Barker was born in Winnipeg in 1956. He began his career in 1974 working for Credo Group in Winnipeg on  Sesame Street and collaborating on a number of commercials for K-Tel. In 1982, he joined the NFB.
Many people know him for his 1988 classic 'The Cat Came Back', which he made at the Winnipeg NFB studios, but few seem to have been aware of his next film released in 2001 after a long stint in advertising, I imagine mainly with Pascal Blais in Montreal where's he's established as a director. His next indie film, 'Strange Invaders' (2001) won 16 prizes on the festival circuit including the wonderfully named Special Prize in Hiroshima, the Grand Prize "I Castelli Animati" for the Best Film in Competition at the Int'l Festival of Animated Films in Italy and another Oscar nomination. Not bad for a comeback film! You can watch 'Strange Invaders' HERE at the NFB.ca site if you want to catch up.
Check out the film's official site, especially the 'making of' page, as there's 5 clips of him talking about making 'The Cat Came Back' and 'Runaway'. I'll post the three of them pertaining to 'Runaway' below. AND GO TO AN NFB GET ANIMATED! SCREENING. Show up, ask them questions, you've already paid for it! I've babbled enough. Enjoy the links – and make stuff.