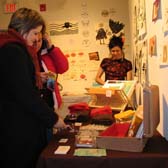 Yet another heads up! This might not appear to be animation-related, yet my co-worker from House of Cool, Art Director Lubomir Arsov will be there, and so will Marvin S. Mariano, who's done pre-prod work for plenty of film companies such as LucasFilm, among others. Also among the participants is the Toronto Cartoonists Workshop, a small teaching organization who runs workshops taught by the likes of local artists Paul Rivoche (Batman Beyond, DCU's Superman, Final Frontier – design & boards), Sam Agro (Ripping Friends, Looney Tunes comics – storyboards & writer/artist) and Scott Caple (The Incredibles, Hunchback of Notre Dame – location design/head of layout). Plus, a bunch of comics and their creators in all stylistic approaches and sizes, from minis to graphic novels. If I were a local creative head of an animation studio looking for new properties to develop (and I know you read this) I'd definitely pay a visit, have a drink or three and browse.
From the SpeakEasy e-newsletter:
"Toronto is home to some of the best known comics artists in North America. We have an active and vibrant community putting out some of the highest quality comics to be found anywhere. The SpeakEasy Comics Show features an eclectic mix of Toronto's talented comic book artists – from those who do newspaper strips and political cartoons, to underground comix and mainstream superhero comic books! The event promises to display an exciting cross-section of the comics community here in Toronto, as well as a glimpse into how good comics are made. As the old cliché goes, there really will be something for everyone.
Time & Space:
Thursday November 4th, 7-11pm
The Gladstone Hotel, 1214 Queen West
Second Floor Lobby
Participating Artists & Groups:
Guerilla Printing – Printing for the People!
Chris Hatzopoulos & George Todorovski, The Bear Stories
Ian Daffern, Blowout Productions
MDS Studios
Lamin Illustration & Design
Gibson Quarter Illustration
Matthew Daley
Chad Solomon, Little Spirit Bear Productions
Lubomir Arsov
Marvin Law
Benjamin Rivers
Sarah Ennals, Personal information
Christopher Yao – Yaoza Graphics Studios
Eshwin Dhir
Aaron Costain
Ken Turner
Lezley Davidson, Peeling Onions Press
Marvin S. Mariano
Shaun Bolden, Beanpie Promotions
Toronto Cartoonists Workshop
William Brian MacLean, RoosterTree
Dale Camus
CanadArt Collection
Cover:
Pay What You Can ($4.00 Donation Suggested)
For more info on the Speakeasy series: http://www.SpeakEasyTO.com"