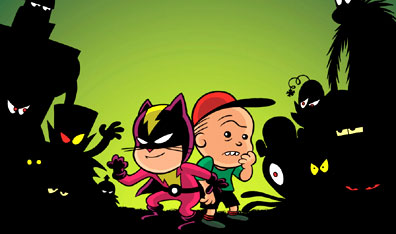 Guelph, Ontario cartoonist Jay Stephens gave a heads up that the 1999 Annie-nominated episode of his creation is online. It's also the first Jetcat short that aired on Nicktoons "Kablam!" Enjoy!
Jetcat originally debuted in the awesome indie creation 'Oddville' , a comics series that Jay put out with Oni Press & Dark Horse. In the late 90s, Jay managed to get Jetcat on air when Nicktoons picked it up for a television series. I'm a huge fan of Jay's stuff, and thankfully he's never stopped 'blindly running through any door that opened' as he once told me in conversation.
Since Jetcat's appearance, Jay's also managed to get the award-winning 'Tutenstein' optioned as well as created the adventure show 'The Secret Saturdays' for Cartoon Network.
More on Jetcat HERE.
More about Jay HERE.