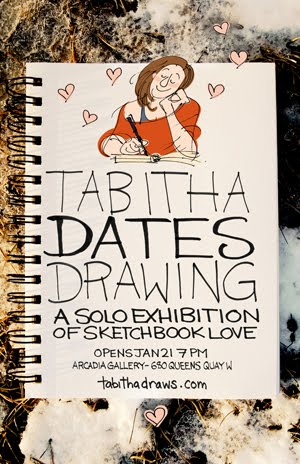 I don't know Toronto-based illustrator and animation designer Tabitha Fisher, but I really enjoy her blog. Full of lively sketches from her travels and observations. Unlike many cafe sketchbooks I see out there, her subjects are often caught in the act of living, not waiting for a latte or asleep on a bus.
When I saw she was hosting a solo show tomorrow night at the Arcadia Gallery Space inside the Arcadia Artist's Co-op in Toronto, I just had to pester her with our patented '8 second Exposure'. She was even kind enough to play along:
1) Name?
Tabitha Fisher
2) Where ya from?
I came to Toronto as a kid and before that lived in small town Ontario. Born in Ottawa!
3) Whatcha doin for money?
I'm a freelance designer at animation studios, but I also take on illustration jobs.
4) Where did the inspiration for this collection of drawings come from?
This summer I really decided to "own" my sketchbook. It's very easy to get caught up in studio work, but it's so important to draw for yourself too. So after one of my contracts ended, I ran off to Paris for a month to "date" my sketchbook. When I came home I kept that philosophy going and now find myself drawing in the strangest places; everywhere from a performance at the opera house to a heated Toronto mayoral debate. Anywhere you might bring a friend, I decided to bring my sketchbook instead. Hence, "Tabitha Dates Drawing: An Exhibition of Sketchbook Love". Corny, I know, but I've become pretty addicted.
5) Where can we see more of your stuff?
You can visit my blog at www.tabithadraws.blogspot.com. I update pretty frequently, so there's always new stuff. I also have a portfolio that's available on request.
6) Can we purchase any of your work?
Yep, in fact you can check out my art show on Friday January 21st where all of the prints will be for sale. There will also be limited quantities of my book, "Tabitha Draws Paris". After the opening, entrance to the gallery is by appointment and goes until February 8th. Or you can, of course, ask me to draw something just for you!
7) Future plans?
More travel, definitely. Going on that journey was one of the best things I've ever done. I love to meet new people and document it through drawing. I try to approach sketchbook drawing like being a photojournalist. With drawings instead of photos, if that makes sense.
8 ) I have a very nice drawing of Cindy (Rock 'N' Rule). Where would you take her on a first date?
I think we would pop into Oyster Boy for some tasty mollusks and beer. Then we might go make some snow angels in the park and see a rock show at The Horseshoe Tavern. I heard she's a fan of that venue!
Man, that sounds good. I wanna get another drawing and make it a double-date! So, if you're in the Toronto area tomorrow night, take a cue from Tabitha. She knows what's up. Thanks for playing, Tabitha!
If you readers know of any animation artists who have something going on in the Great White North, drop us a line, and we'll drop our patented '8 Second Exposure' …on them!