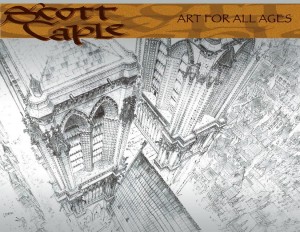 From Scott's blog:
I have been remiss in leaving it to now, but I have a BIG ANNOUNCEMENT:
I am going to have, my first, my very own, SHOW!!
I have joined forces with the Toronto Cartoonists Workshop. The show will be in their space, in downtown Toronto, 486 College St., that's between Bathurst and Ossington, kicking off with an opening on February 25, from 7 to 11.I invite everyone who sees this to please come on out and have a look.
The stuff on display will be mostly layouts and designs – some original, some not – from things I have worked on over the years: features, television, book illustration. There will art on dispaly from The Incredibles, Hunchback of Notre Dame, Bluth Features such as All Dogs Go To Heaven, Rock A Doodle, Thumbelina,
Here's the blurb , as per the TCW:

"The Toronto Cartoonists Workshop is delighted to present Animation & Film: The Scott Caple Retrospective. Caple, an environmental designer and art director whose numerous projects over the last 3 decades includes the Disney/Pixar megahit The Incredibles, will walk guests through his dazzling array of animation artwork from some of the most popular and seminal films over the last 30 years."
"Caple has carefully chosen works from his entire career in film and animation – from Raiders of the Lost Ark and Star Trek II – The Wrath of Khan to Inspector Gadget, The Hunchback of Notre Dame and The Incredibles. Please join us for a fascinating journey into the world of film animation."
I will have a limited number of signed prints for sale.
There will be refreshments provided.
I'm not sure how I will be showing art from Raiders or Star Trek as I don't really have any art from those jobs; maybe I 'll just tell war stories…
So please pass the word and come on out for a taste of animation art that doesn't usually get a nod!
Thanks to Barry Sanders for the heads up.