Events: Cartoonapalooza 11, February 24th, 7pm, Anza Club, Vancouver (fundraiser for Karen Rasi)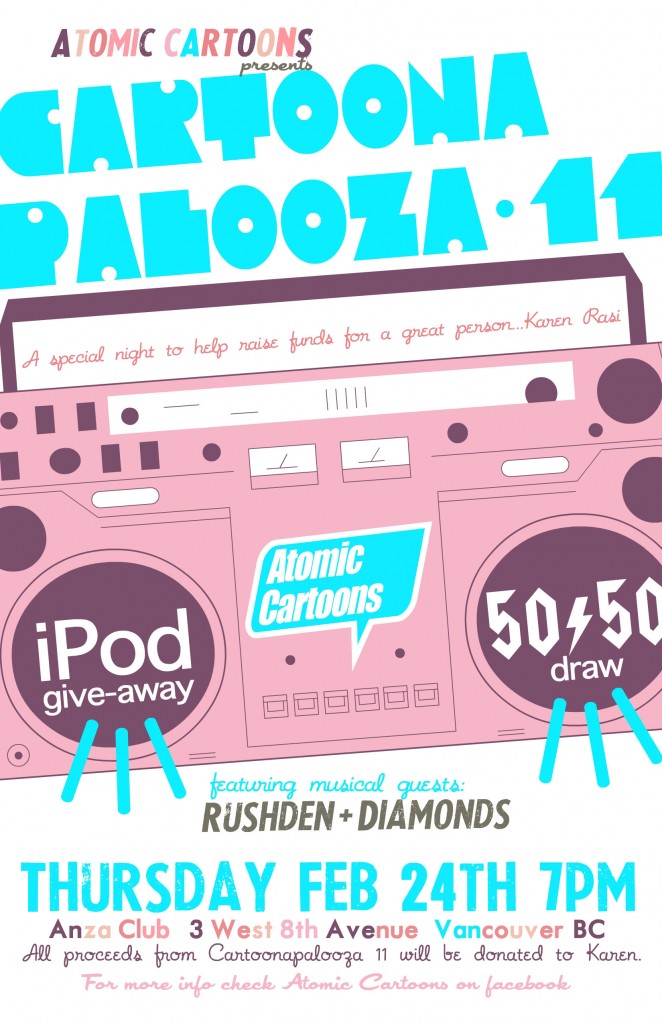 Karen Rasi is a colour stylist who worked at Studio B around the same time I did many, many years ago. I was recently contacted by Trevor Bentley, of Atomic Cartoons in Vancouver, who informed that about 3 weeks ago she had a stroke. She is out of the hospital and has since been moved for Physio, but, from what he says, it will be a long road back.
To help Karen out and to give the local animation community an opportunity to show some support and to raise a few bucks for Karen Atomic Cartoons is putting on the 11th Cartoonapalooza. All proceeds will go to Karen. In addition, the guys at Atomic are going to match all money raised at the event.
The event is February 24th at 7pm. It takes place at the ANZA Club. We've also put up some info on the Atomic fb site:
http://www.facebook.com/#!/pages/Atomic-Cartoons-Inc/160031297375625<http://www.facebook.com/#%21/pages/Atomic-Cartoons-Inc/160031297375625>
I've heard good things about the Cartoonapalooza events of the past, sounds like a good time, and a great way to help someone out.
Good luck with the fundraising!
m