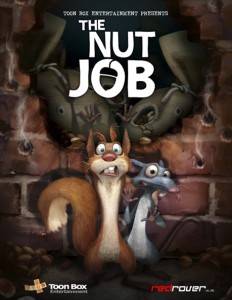 Toronto's ToonBox Entertainment sounds like it's…going nuts?! This press release is from last month, but consider it a heads up to all you feature animation hopefuls out there. I know for a fact that the storyboard crew is pretty much booked up, but there should be more opportunities at ToonBox in the coming months.
From the Hollywood Reporter:
"Cameron, who wrote Brother Bear and Over the Hedge, is coming north to write the screenplay for the Canadian-Korean animated feature.
TORONTO — Veteran Disney animation screenwriter Lorne Cameron is to write the screenplay for the stereoscopic 3D animated feature The Nut Job for Canadian cartoon producer Toonbox Entertainment and Korean partner Redrover.
Los Angeles-based Cameron is to return to his native Canada to work on the $50 million Korean-Canadian 3D animated feature, which is set for a late 2012 release.
Cameron co-wrote DreamWorks Animation's Over The Hedge with writing partner David Hoselton (House), and his credits include Disney's Brother Bear and Pixar's Ratatouille.
Peter Lepeniotis is already on board to direct The Nut Job, which is based on his 2005 short film Surly Squirrel.
Lepeniotis also directed the 2010 TV series Bolts and Blip from Toonbox and Redrover, another Canadian-Korean co-production.
The Nut Job, Toonbox Entertainment's first-ever feature, will follow Surly and his rat friend Buddy as two street-wise rodents upending the solitude of their city park home.
Hong Kim is to executive produce the animated feature, with Ria Westaway and Thom Chapman producing.
Chapman said the animated feature is nearly fully-financed. He added that snagging Cameron, a fellow Canadian, for the project aims to enable the feature to fully exploit soft money on offer to Canadian feature film projects.
Toronto-based Toonbox and Redrover also plan a spin-off TV series based on The Nut Job feature, comprising 52 11-minute episodes."