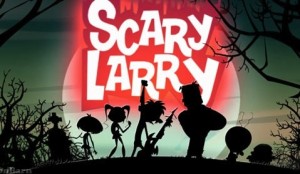 A USA/France/Canada co-production, this teaser trailer for a proposed series 'Scary Larry' does a pretty good job of looking good for the budget, thanks to the folks at Ottawa's Mercury Filmworks. Animated entirely with ToonBoom. I hope the series can maintain this level of 'limited-full' animation. No North American distro is lined up yet, as far as I can tell.
http://www.youtube.com/watch?v=OCYBErthk1U&feature=player_embedded
Read more about 'Little Gloomy', the long-standing original comic that this teaser is based on, in this 11 year old interview HERE, announcements about the project HERE, HERE, and HERE. Also, a short-lived blog of trying to launch this project as written by the co-creator & writer of 'Little Gloomy', Landry Walker, can be found HERE.