Teletoon Pilot Project, part DEUX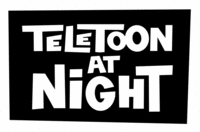 Teletoon has just announced a new version of their Pilot Project.  We've yapped on and on about the first go around on this, let's see what the new one has to say for itself.
Here's the press release:
TELETOON AT NIGHT PILOT PROJECT GIVES BUDDING AND PROFESSIONAL ANIMATORS 10,000 REASONS TO SHOW OFF THEIR SKILLS
TELETOON at Night Pilot Project Launches Contest Giving Animators a Chance at $10,000 CDN and Attend North America's Largest Animation Conference & Festival
Submissions Accepted Sunday, February 6 to Friday, July 15, 2011
(Toronto, ON, February 7, 2011) – TELETOON Canada inc. is taking the original TELETOON Pilot Project concept and turning it into an online, user-generated contest called the TELETOON At Night Pilot Project beginning Sunday, February 6, 2011. This initiative calls on aspiring and professional animators to put their creative skills to use for a chance to win $10,000 CDN and the opportunity to attend North America's largest animation conference and festival, the Television Animation Conference and Ottawa International Animation Festival.
"The TELETOON at Night Pilot Project is an important initiative which offers a once-in-a-lifetime opportunity for animation enthusiasts," said Russell Ward, Vice President, Marketing, TELETOON Canada inc. "As an active player in the animation industry, this project gives TELETOON the opportunity to recognize and open a door of possibility to raw and undiscovered creative talent."
From Sunday, February 6 to Friday, July 15, 2011, contestants are invited to submit original, funny and unique animation or animation-related short films. Eligible submissions must be no more than five minutes in length and can either be entered through the English-language contest on teletoonatnight.com or the French-language contest on teletoonlanuit.com. The winner of each English and French contest will be awarded:
$10,000 CDN

Two roundtrip airline tickets

from the closest Canadian commercial airport to the winner's residence to Ottawa

Four nights accommodation in Ottawa

Two delegate passes to the Television Animation Conference and Ottawa International Animation Festival
All eligible submissions will be featured in a video gallery on teletoonatnight.com and teletoonlanuit.com, where the public can select their "Fave of the Week" each week. The five final contenders selected by a TELETOON jury for each of the English and French contests will be revealed on Sunday, July 31. The public can then vote for their favourite video until Saturday, August 28. The video that receives the most votes by the end of the voting phase will be crowned the winner and revealed on-air and online on Sunday, September 18.
For contest rules and more information on the TELETOON at Night Pilot Project, please visit teletoonatnight.com or teletoonlanuit.com.
The original TELETOON Pilot Project launched in fall 2007, exclusively inviting Canadian producers to submit proposals to produce a pilot in either English or French to be broadcast on TELETOON. Ten projects were selected as finalists from over 200 submissions, straddling a wide range of topics, animation styles and comedy sensibilities. TELETOON recently announced that the first TELETOON Pilot Project winner, Fugget About It, has been officially greenlit for production into a 13-part series in English and French.
TELETOON At Night is a special programming block on TELETOON for older teens and adult audiences who have an appetite for smart and culturally topical comedy shows. Available in both English and French, TELETOON Canada inc. brings kids, youth and adults the best in animated and animation-related entertainment with four nationwide specialty television channels – TELETOON, TÉLÉTOON, TELETOON Retro and TÉLÉTOON Rétro – and select programming is also available On Demand, Mobile TV, iTunes and teletoon.com. Founded in 1997, TELETOON Canada inc. is owned by Astral (50%) and Corus Entertainment (50%). For more information, please visit www.teletoon.com.
So if you head on over to the site, you can hit a link on the side and take you to a submissions page.  I didn't get any further, since it starts with a release:

Please read and agree to this release form before uploading your video.
PILOT PROJECT
To upload your video submission: (1) please read the following video submission agreement; (2) only if you agree to the terms and conditions of the video submission agreement, indicate your agreement by clicking the "agree" button below; (3) confirm that you are of the age of majority; and (4) click the "upload" button and follow the directions.
Please be aware that if you click the "agree" button, you are entering into a binding agreement with TELETOON Canada Inc. regardless of whether you read the agreement.
For good and valuable consideration:
1. You hereby grant TELETOON Canada Inc., its affiliates, agents and each of their successors and assigns (collectively ,"TELETOON") the unlimited, irrevocable and royalty-free licence and right to use, display, exhibit, edit, modify licence, sub-licence and otherwise exploit the video ("Video") you upload to www.teletoonatnight.com ("Website") without notice or compensation to you or any third party, in perpetuity throughout the world, in any and all manner, media or technology now known or hereafter devised including, without limitation, TELETOON's television services, websites, or in any promotion or programming for TELETOON.
2. You represent and warrant to TELETOON:
(a) the Video is your original work;
(b) you own or control all of the rights in and to the Video;
(c) you have secured or cleared all rights in and to any music, persons, trademarks, copyrights, or other intellectual property contained in the Video and such rights are free and clear from any and all claims, rights and obligations;
(d) neither the Video nor TELETOON's exercise of the rights granted to it under this agreement, do not and will not defame any person, constitute libel or slander, violate any rights of privacy or publicity or any other right of any person or entity;
(e) you have the right to grant the rights granted to TELETOON under this agreement and do not require the consent of any third party;
(f) there is no contract with any third party that could in any way interfere with TELETOON's rights under this agreement or require any payment to be made to anyone by TELETOON; and
(g) the Video is compliant with the video specification listed on the Website and in the official rules for the TELETOON at Night Pilot Project Contest ("Contest").
3. You agree TELETOON has the right, in its sole discretion, to alter, modify or edit the Video in any way whatsoever. You hereby waive any moral rights in the Video and represent and warrant that all moral rights relating to the Video have been waived.
4. You fully discharge, release, indemnify and holdharmless TELETOON and its respective directors, officers, employees, agents, representatives and advertising and promotional agencies (collectively, "Releasees") from any or all claims, demands, damages, losses, expenses (including any legal fees and expenses) actions or causes of action whatsoever incurred by or asserted against Releasees arising out of or in connection with: (a) any breach or alleged breach of any representation, warranty, promise or agreement made by you in this agreement; or (b) TELETOON's use of the Video in accordance with the rights and licences you granted to it under this agreement.
5 You understand that TELETOON is running the Contest and you may not be eligible to enter. You are not eligible if you are not a resident of Canada (excluding Quebec) or are under the age of majority in your province. You acknowledge that you have read the official rules for the Contest and agree to abide by the official rules regardless of your eligibility. If you are not eligible to enter the contest you may still submit the Video to TELETOON and TELETOON may post it on the Website or on www.teletoonlanuit.com ("French Website") or use it in accordance with the rights and licence granted to it hereunder.
6. If the Video is posted on the Website or the French Website, you agree that visitors may click on buttons indicating that they like or dislike the Video and such results may be seen by any visitors to the Website or the French Website. The Video with the highest number of visitor "likes" may be showcased as the "Fave of the Week".
7. You agree that TELETOON may use your name, city of residence, photograph, voice, image, any information you provide in the submission form, and any other information that appears in or is associated with your Video, in connection with the Video and the rights and licences granted to TELETOON hereunder for any publicity, promotional or other purposes, commercial or otherwise.
8. You agree that TELETOON is not responsible for any loss, damage or corruption to the Video.
9. You acknowledge and agree that TELETOON is under no obligation make use of the rights and licences granted to it hereunder, including no obligation to exhibit the Video on its television services or websites.
10. This video submission agreement is made in the province of Ontario and shall be construed exclusively in accordance with the laws of the province of Ontario and the laws of Canada applicable in the province of the Ontario. You agree to irrevocably submit to the exclusive jurisdiction of the courts in the city of Toronto, Ontario.
I am of the age of majority in my province, state or country.
I don't like the words, "in perpetuity", but that's just me.