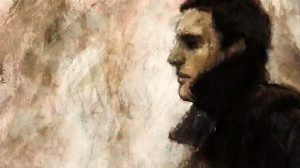 Well done to Theodore Ushev and everyone involved in the production of Lipsett Diaries, including Ottawa's own animation grump, Chris Robinson, who scripted the film.
Lipsett Diaries took home a Genie Award last night for Best Animated Short.
Here's the press release from the NFB:
Montreal, March 10, 2011 – Lipsett Diaries, directed by Theodore Ushev and produced by Marc Bertrand for the National Film Board of Canada, has won Best Animated Short at the 31st annual Genie Awards, presented by the Academy of Canadian Cinema & Television. The NFB offers its warmest congratulations to Mr. Ushev and the entire filmmaking team.
Lipsett Diaries grew out of a meeting between Chris Robinson, writer and programmer for the Ottawa International Animation Festival, and filmmaker and illustrator Theodore Ushev. Narrated
by actor/director Xavier Dolan, Lipsett Diaries takes the form of a journal chronicling the tormented life of cinematic genius Arthur Lipsett, from his solitary childhood until his suicide in 1986.
After winning a Special Mention (ex æquo) in the Short Film category at the 2010 Annecy International Animated Film Festival, the Lipsett Diaries also took home a Special International Jury Prize at the Hiroshima International Animation Festival and won the Canadian Film Institute Award for Best Canadian Animation at the Ottawa International Animation Festival last October.

Lipsett Diaries continued its successful run of festivals in 2010, winning the Grand Prix at the Rencontres internationales du cinéma d'animation in Wissembourg (Alsace, France). Earlier this year, it won Best Animation Film Award in the International Competition at the International Short Film Festival in Clermont-Ferrand, France.
The Toronto International Film Festival included Lipsett Diaries in Canada's Top Ten, its list of the year's best Canadian films. It is now touring major Canadian cities along with the other top ten films.

The NFB would like to congratulate the other short film in competition for Best Animated Short at the 2011 Genie Awards. The Trenches, directed by Claude Cloutier (NFB), is a remarkable film about the First World War, as seen through the eyes of a soldier. The fact that both nominees in this category were NFB productions speaks to the vitality and quality of animation production at the National Film Board.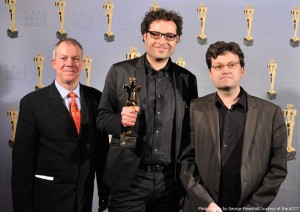 (photo courtesy of genieawards.ca)