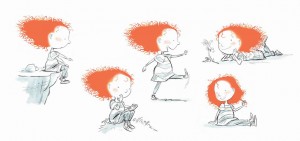 'Stella and Sam' creator Marie-Louise Gay posted about her POV on developing her childrens' book into an animated property. A good read for anyone looking to start developing their own series and pitching. The main thing I got out of it was:
a) it took a decade.
b) she never waffled on what she wanted
c) Most importantly, she spent a lot of time fully developing her world before a supportive producer took her on as a partner to make the translation into animation.
Anyways, have a read, feel free to comment below. Yet another feather in the cap for Ottawa's Mercury Filmworks. They must be doing a series of things right over there, they seem to be getting some clout with artists:
"But how do you translate very detailed pencil, watercolor and collage illustrations that lie quietly on the page, waiting to be read and poured over and over again by small children, to another platform where computer images are created to move and talk and dance and play — all this without betraying the original concept? I guess the answer to that is to find artists who will respect the original work. Mercury Filmworks created the computer images of the characters, the landscapes, the colors, the movements and the visual identity of the show. They stayed as close as possible to the art in my books."
(thanks,  Steve Lambe)