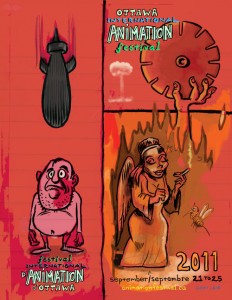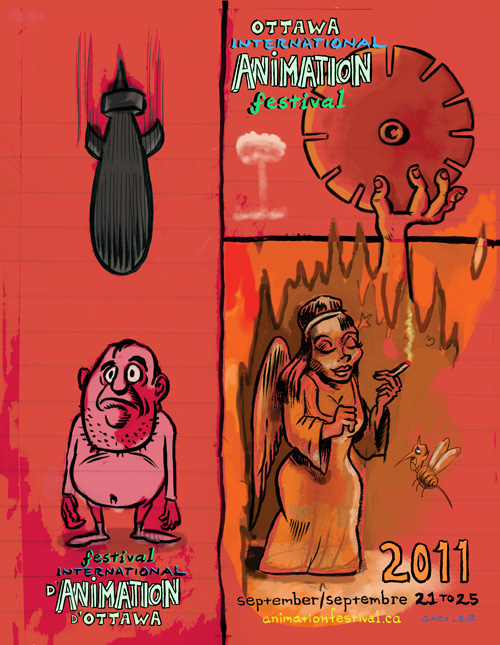 With the festival poster unveiled, and comments flying, we can now get on to the official business of this year's Ottawa International Animation Festival.  The call for submissions is open, and there are some changes this year.  Here are the details, pulled directly from the festival site:
Film Submissions
NOTICE *CHANGE TO SUBMISSION REQUIREMENTS Starting in 2011, in response to higher quality industry production and presentation standards, OIAF has changed requirements for screening formats of selected films. Read on for more information.

2011 Film Submissions

WHAT YOU NEED TO KNOW

Deadline for entry forms: Friday, May 20th, 2011
Deadline for preview DVDs: Friday, June 3rd, 2011
There is no entry or registration fee.
Only animated films that were completed after June 15th, 2010, are eligible.
You must submit your entry form online through your OIAF login account.
Your preview film must be submitted on a playable DVD (NTSC or PAL). New Media Competition submissions can be submitted as a Weblink or a Flash (SWF) file on CD-ROM or DVD.
If your film has dialogue that is not English and is not subtitled, you must include an English dialogue script.
Director's photograph (300 dpi), biography and 3 stills from the film (300 dpi) are required.
We cannot accept customs charges. Do not label a value over $10 CAN on your package.
DVDs submitted for selection will not be returned.
*NEW IN 2011 If your film is selected, we must receive a 35mm film print or a high-quality Digital Video File (suggested resolution 1280 x 720).
*NEW IN 2011  The festival no longer accepts Betacam SP or any other tape format as screening copies.
*NEW IN 2011 All films selected for the festival must be received by Friday, August 5th, 2011.
Selected 35mm films must also submit a backup screening copy as a Digital Video File only (same technical requirements as above).
By submitting your online entry form, you are agreeing to the OIAF 2011 Rules and Regulations.

SUBMISSION INFORMATION

HOW TO SUBMIT YOUR FILM
Log in on the left and select "Entry Form" from the User Menu. Don't have an account yet? Click here to register!