Here be the deets: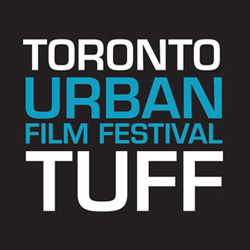 Five Years and Still TUFF!
Filmmakers, animators and video artists are invited to submit one-minute silent films for an urban public to the 5th annual Toronto Urban Film Festival (TUFF).
TUFF is FREE to submit prior to June 1, 2011. After that date, there will be submission fees: $10 (June 1 – June 30) and $15 (July 1 – July 15). TUFF pays artist fees and awards thousands of dollars in cash and in-kind prizes.  Final deadline is July 15, 2011. Films can be submitted through the TUFF website: http://www.torontourbanfilmfestival.com/submit
The Toronto Urban Film Festival is the world's only true "underground" film festival, reaching over 1.3 million daily commuters who ride the Toronto subway system.  Films screen every 10 minutes on 270 screens in 50 subways stations across the city. The event takes place September 9 – 18, 2011 concurrent with the Toronto International Film Festival (TIFF).
Award-winning Canadian filmmaker Atom Egoyan will guest judge this year's festival. Egoyan will select the top three films of the festival as well as the winner of the "Naish McHugh Award", an annual cash award from the City of Toronto to an emerging GTA filmmaker.