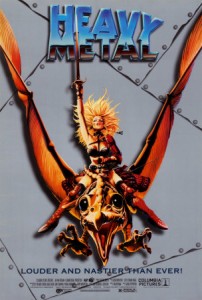 What? You've never seen this R rated, largely Canadian-made schlock classic?!
Get thee to school.
From the Film School Confidential Facebook posting:
"One of the most beloved – and notorious – cult animated films of all time, the partly Canadian financed HEAVY METAL is a wild blast of sex, sci-fi, horror, dark fantasy, ultraviolence and sheer pulp delirium. Set to the pounding score of bands like Blue Oyster Cult, Nazareth, Cheap Trick and Stevie Nicks and with a voice casts that includes many SCTV graduates and noted Canadian actors, this decidedly R rated adaptation of stori…es culled from the legendary and long running magazine has to be seen on a big screen with a crowd of more daring cineastes to be truly appreciated.
On that note, Film School Confidential is proud to present a handsome 35mm print of this immortal classic, with the colors – especially the reds – bursting from the screen. Fangoria Magazine editor Chris Alexander will introduce the film…and a few surprise guests may show up to the party.
SPECIAL GUEST: Sheridan College Animation Professor Christopher Walsh will be joining us to riff on why HEAVY METAL is a classic.
Sponsored by EYESORE CINEMA and Fangoria Magazine."
As one Facebook poster put it: "Anyone that doesn't attend this is a motherfucker."
I concur.