*TELETOON Canada green lights Pirate Express for development*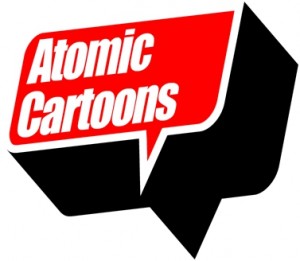 Atomic Cartoons is pleased to announce the commencement of development on Pirate Express with TELETOON Canada. Pirate Express, (52 X 11) a comedy for kids 7 – 11, is a co-production with France's Ellipsanime.
"When Boris Guilloteau and Alexis Leveillé presented us with this original concept, we fell for the engaging characters, the wacky story and the freshness of the design. We are ready to embark with this scurvy Pirate team on a new adventure and we are very happy to have Atomic's talented team join us" says Robert Rea, CEO Ellipsanime.
"We were thrilled to have Ellipsanime approach us with this fantastic concept and equally elated to have been given the thumbs-up for development by TELETOON. We are really looking forward to developing this for series." Says Rob Davies, VP of Development at Atomic Cartoons.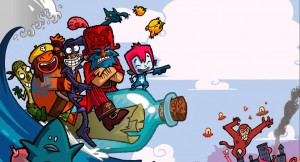 Pirate Express is about an adventurous 12-year-old Atlantean boy named Newt who has been given the challenging task of leading a motley crew of unruly pirates on bizarre voyages. Newt captains the pirate vessel, Fancy Pants, much to the chagrin of the original captain, Henri LaFailurette, who must reluctantly still accompany the team on missions. Newt is the son of the almighty Poseidon who has given the pirates the job of supporting his youngest son on these journeys. Should the pirates fail, they will be sent back to exile on a ship in a bottle for all eternity.
"Pirate Express gives our viewers the kind of zany story-lines and outlandish characters that they constantly crave," said Alan Gregg, Director, Original Programming, TELETOON Canada inc. "We're excited to add this series to our development slate."
Award-winning Atomic Cartoons is an independent full-service animation studio located in beautiful Vancouver, B.C., Canada. Atomic produces and creates animation for television series, commercials, music videos, and features. Partners Mauro Casalese, Rob Davies, Trevor Bentley, and Rob Simmons head up a world-renowned studio that includes some of Canada's most creative animators, directors, producers, and writers. Adept at multiple genres and animation styles, Atomic Cartoons is recognized internationally as one of the landmark animation studios in North America.
Devoted to producing high quality programming, Ellipsanime is one of today's leading names in animation production. Based in Paris, and part of the MEDIA PARTICIPATION group, Ellispanime's most recent titles include THE GARFIELD SHOW, YUMMY TOONIES, and QUIZ TIME.