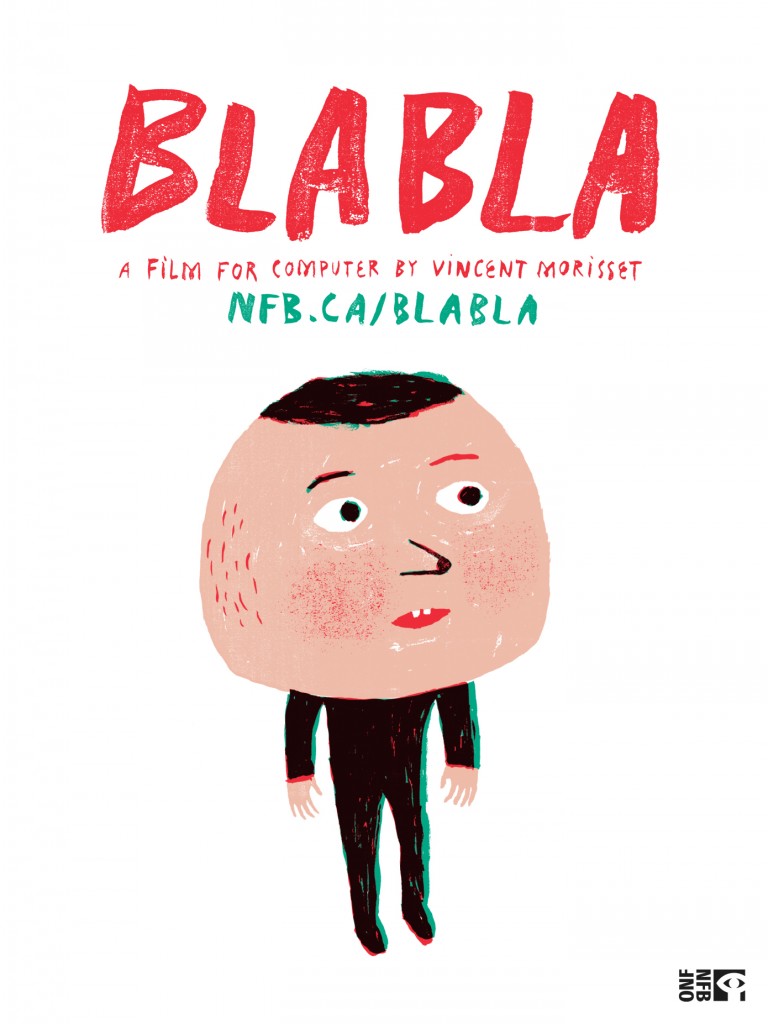 I don't know how long this will be up, but you should check out Vincent Morisset's crew over at the NFB site dedicated to their new project "BLA BLA". Fans of the Arcade Fire might recognize Morisset's name – he came up with their famous interactive video "be oNline B" . My impression  is that Bla Bla Bla is just as intriguing…with the upward trend of interactive narrative going on, this is a thoughtful step forward in aesthetic and execution.
Some excerpts from the press kit:
"Vincent Morisset's BLA BLA is an interactive tale that explores the fundamental principles of human communication. The viewer makes the story possible: without him or her, the characters remain inert, waiting for the next interaction. The spectator clicks, plays and searches through the simple, uncluttered scenes, truly driving the experience.
Each of the six chapters in the story depicts a different aspect of communication: learning a language, making small talk, expressing emotions, etc. Rich in opportunities for discovery, BLA BLA illustrates these concepts through endearing yet perplexing characters. The figures were designed by Caroline Robert using a variety of techniques, both traditional and hi-tech.
"BLA BLA uses xerography, drawing on paper, ActionScript-generated animations, puppet stop-motion combined with real-time 3D mapping, etc.," Morisset explains. "I am inspired by projects that feel free aesthetically. I wanted BLA BLA to feel hand-made, imperfect, fragile, so we forget about the technology."
CREDITS
Design and development: AATOAA
Production: National Film Board of Canada
Hugues Sweeney (production), Édouard Lanctôt-Benoit(programming), Vincent Morisset (direction), Caroline Robert (visual), Philippe Lambert (sound). © Minelly Kamemura
AATOAA CREW
Direction, Animation and Compositing
Vincent Morisset
Sound, Music and Voice
Philippe Lambert
Programming and Technology
Édouard Lanctôt-Benoit
Visual Design and Animation
Caroline Robert
Puppet Armature Design
Jean-François Lévesque
Rotoscopy
Vincent Lambert
Photography
Minelly Kamemura
Additional Prototype Programming
Mathieu Campagna
Prototype 3D Modelling and Animation
Joshua Sherrett
Jonathan Fleming-Bock