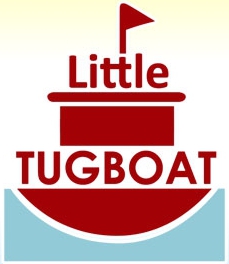 FIRST-EVER LITTLE TUGBOAT ACADEMY SET FOR JULY 8-10
Participants in Toronto Seminar Will Learn How to Make and Sell Preschool Television Content
The first-ever Little Tugboat Academy is set to take place at Toronto's Cuppa Coffee Studios, July 8-10.  The intensive three-day course, "How to Make A Great Preschool Series," is designed for both professionals and beginners who want to learn what it takes to make and sell successful preschool television content in Canada and throughout the world.  The announcement was made today by Brenda Nietupski, President and Director, Little Tugboat.
Little Tugboat is the new Canadian production company that was formed earlier this year to create original television programming for young audiences.  Little Tugboat is owned and controlled by Nietupski.  Josh Selig, Founder and President of Little Airplane Productions, is Vice President and Director of Little Tugboat.
During the Little Tugboat Academy, participants will learn the fundamentals of creating a preschool series from pitching through writing, character design, directing and producing both live-action and animated shows.  Other topics will include, licensing, business affairs, distribution, and transmedia.  The courses are led by a team of accomplished preschool TV veterans.
Little Tugboat Academy courses will include a workshop from Selig on pitching and bible creation.  JJ Johnson of Sinking Ship Entertainment will host a session on directing live-action.  And Emmy-award winning Little Airplane Music Director, Jeffrey Lesser will discuss music and composition for children's series.  The three-day seminar concludes with a panel discussion led by Carla DeJong, Head of Commissioning and Development, ABC Children's Television, Australia.  Featured panelists include Kim Wilson, Creative Head, CBC Children's and Youth Programming; Sarah Landy, Executive in Charge of Production and Development, Nickelodeon Preschool; and Jocelyn Hamilton, Vice President Original Programming – Kids, Comedy, Drama, Corus Entertainment.
"The Little Tugboat Academy is a one of a kind opportunity for anyone in Canada or beyond who is interested in creating quality preschool television," said Nietupski.  "We have assembled an all-star team of professionals who will be sharing their perspective, knowledge and wisdom."
Cuppa Coffee Studios is located at 53 Ontario St., in Toronto.  For more information and application forms, please contact Tone Thyne at 212-965-8999 or tone@littleairplane.com and Brenda Nietupski at 416-654-4720 or brenda@littletugboat.com.