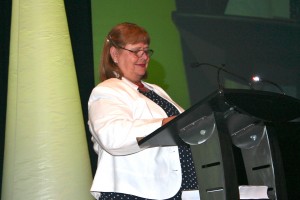 July 15, 2011
Atomic Cartoons is pleased to announce the addition of Bonita Siegel to their development team. Bonita is an experienced Executive Producer and Broadcaster who, in her role as Director of Original Productions at Corus Television, developed, commissioned and supervised production on over 1400 hours of children's programming for all age groups and genres including animation, live action, comedy, sitcom, reality shows, preschool animation, puppets, and documentary.
Siegel's long list of industry accomplishments include an International Emmy, the Alliance for Children's Television Award (ACT), multiple Prix Jeunesse nominations, the Pucinella award for best animated program, Gemini Awards, Annecy Animation Festival award, BAFTAs, Leo Awards, and Ottawa Animation Festival award.
"We are very lucky to have someone of Bonita's caliber to consult with. This is definitely a big step forward for Atomic Cartoons." Says Rob Davies, VP of Development at Atomic Cartoons, "We had the good fortune of working with Bonita a few years ago on Captain Flamingo and when the opportunity arose to work with her again in development, we jumped at the chance. Her devotion to the television industry, and specifically her knowledge of the children's space, truly quarterbacks our efforts.
Bonita is currently assisting Atomic Cartoons on multiple proprietary series that include Pirate Express, an Ellipseanime/Atomic co-pro in development at Teletoon, Lionheart, Planet Tiki Island, and the loveable pre-school series, Good Job Lucky.
"I'm delighted to be teamed up with the Atomic Team again. They are creative, hardworking, open and collaborative, and a lot of fun too!" Exclaims Siegel.
Award-winning Atomic Cartoons is an independent full-service animation studio located in beautiful Vancouver, B.C., Canada. Atomic produces and creates animation for television series, commercials, music videos, and features. Partners Mauro Casalese, Rob Davies, Trevor Bentley, and Rob Simmons head up a world-renowned studio that includes some of Canada's most creative animators, directors, producers, and writers. Adept at multiple genres and animation styles, Atomic Cartoons is recognized internationally as one of the landmark animation studios in North America.