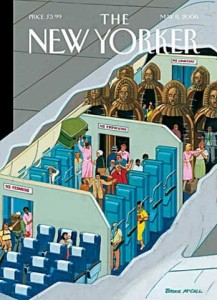 iThentic Deals Original Animation Series The World of Bruce McCall to CBC in Canada and My Damn Channel plus Kickstarter Campaign Commissions McCall to Animate You
Toronto/New York – July 6, 2011- Online video content production and distribution company iThentic announces the sale of its original animation series The World of Bruce McCall to Canada's CBC, plus a distribution deal with the entertainment studio and premium destination, My Damn Channel, which will host the videos and world premiere a new episode of McCall's series today at http://www.mydamnchannel.com/BruceMccall
Based on Bruce McCall's whimsical yet biting illustrations depicting the incongruities of modern life (including several of his New Yorker covers), the series includes the award-winning shorts The Ascent of Man and Clear Conscience plus two additional shorts, Our Energy Free Transportation Future and The World's Worst Golf Course.  The animated short films were directed by Luke Gustafson and Denny Silverthorne and written by Jeremy Diamond. The series is co-produced by the multiple award-winning, full-production animation studio Smiley Guy Studios, the film, television and multi-platform content company Duopoly, and digital production and distribution company iThentic.
The World of Bruce McCall will air on the CBC main broadcast network in addition to CBC's cable channel Bold.  The series will also join a great line-up of artists doing original work on My Damn Channel.
"Bruce McCall's vision of the world, interpreted in these brilliant short films, inspired us to create a new Artist Spotlight destination to share this work with our audience," said Rob Barnett, Founder/CEO My Damn Channel.
iThentic also announces the launch of its first Kickstarter campaign to raise production funding for Love in the Time of Dendur, a new short animated film based on another of Bruce McCall's New Yorker covers. In this illustration, two Egyptian mummies pose for a photo in front of the Temple of Dendur at the Metropolitan Museum of Art in New York City. In the spirit of McCall, the iThentic Kickstarter campaign features an incentive whereby contributors may have their animated likeness make an appearance in the short film.

"Bruce's illustrations always evoke a bigger back story and this one got me thinking about tourists, a love story, and mummies discovering New York," said writer, Jeremy Diamond. "We're hoping to raise enough money to add to the body of work we have created as a tribute to the astonishing and hilarious Bruce McCall!"
About Bruce McCall
Beginning with his work for the National Lampoon in the early Seventies, Bruce McCall has published a prolific flow of parodic, satirical, and surreal humor, both written and illustrated, in almost every major publication in the United States and Canada. He has been a frequent contributor to The New Yorker since 1980, and his work regularly appears in Vanity Fair and the New York Times. His 1982 humor collection, Zany Afternoons, has become a collectors' item, and 1990 shows of his paintings at New York's James Goodman Gallery almost sold out. The Canadian-born McCall pursued careers in commercial art, automotive journalism, and advertising before yielding to a lifelong impulse and becoming a full-time humor freelancer in 1993.  His critically acclaimed memoir of growing up Canadian, Thin Ice, was published in 1997 and was made into a documentary by the National Film Board of Canada. In 2001, he published The Last Dream-o-Rama, a tongue-in-cheek history of Detroit's dream car era. Bruce McCall lives in New York City and is still a Canadian citizen.
iThentic is an online and mobile video content production and distribution company headquartered in Toronto with offices in New York City.  Launched in 2006, iThentic is carving out a place for independent filmmakers on digital platforms by aggregating, producing, and distributing the very best in independently produced content. The company is backed by three engaged and prominent shareholders: eOne Entertainment, Canada's largest entertainment company, the founders of iThentic LLC (led by Catherine Tait), and Smiley Guy Studios, an award winning animation and new media studio. Smiley Guy Studios is the operating partner with Jonas Diamond as CEO and Catherine Tait as Chair of the company. www.iThentic.com
CBC/Radio-Canada is Canada's national public broadcaster and one of this country's largest cultural institutions. Through the delivery of a comprehensive range of radio, television, Internet, and satellite-based services, CBC-Radio/Canada is available how, where, and when Canadians want it.  We bring diverse regional and cultural perspectives into the daily lives of Canadians in English, French and eight aboriginal languages, and in seven languages on our international Radio service, RCI.  Our media sites, CBC.ca and Radio-Canada.ca describe upcoming programs, provide a multitude of video and audio files, plus local, national and international news and weather; and invite you to join a national conversation.  CBC/Radio-Canada's mandate is set out in the 1991 Broadcasting Act. CBC/Radio-Canada is accountable to all Canadians, reporting annually to Parliament through the Minister of Canadian Heritage.  In accordance with the Broadcasting Act, the Board of Directors is responsible for the management of the Corporation. The Board is made up of 12 members, including the Chair and the President and CEO, who are appointed by the Government.
My Damn Channel is a leading entertainment studio and distributor of premium videos by top talent. My Damn Channel empowers filmmakers, comedians, actors, musicians, broadcasters and brands to co-produce, distribute and monetize original video on the My Damn Channel website and in syndication on all digital platforms. The company has launched some of the most successful, original comedy series including Wainy Days, Gigi: Almost American, Easy to Assemble, Horrible People, the cult phenomenon You Suck at Photoshop, and videos by Harry Shearer. My Damn Channel creates premium, branded entertainment and guarantees audience delivery for partners including HBO,  Subway, Puma, Trident, Southern Comfort, IKEA, and Lincoln. My Damn Channel has won numerous awards; worldwide media coverage; major national advertisers; and…Are you STILL reading? Please watch 3 minutes here: http://www.mydamnchannel.com/sizzlereel
About Kickstarter
Kickstarter is a new way to fund creative projects. They provide a platform for artists, filmmakers, musicians, designers, writers, illustrators, explorers, curators, performers, and others to bring their projects, events, and dreams to life.  Kickstarter is powered by a unique all-or-nothing funding method where projects must be fully-funded or no money changes hands. www.Kickstarter.com