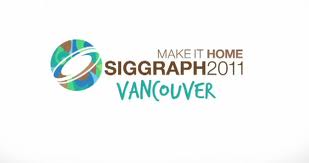 Multiple press releases for this one! The first from VFS:
Vancouver Film School Welcomes the World's Largest Computer Graphics Conference
SIGGRAPH comes to Vancouver for the First Time
August 03, 2011 – Vancouver, BC, Canada – Vancouver Film School (VFS), Canada's premier entertainment arts institution and one of the most distinguished in the world, is proud to be a part of the first SIGGRAPH conference to ever be held outside of the United States. The weeklong 2011 edition of SIGGRAPH, or Special Interest Group on Graphics and Interactive Techniques, will see over 150 exhibitors from 68 different countries arrive in Vancouver to share information, expertise, and enthusiasm for digital art.
As the globally-renowned centre for excellence in entertainment media education, VFS will be showcasing inspiring student work and alumni achievements at SIGGRAPH, while also hosting a series of events, including guest talks from visiting experts and an alumni mixer. Celebrating over 15 years of alumni success – including having worked on the top 10 highest-grossing movies of all time – VFS's Animation & Visual Effects programs will invite former students back to the school for a casual event to share war stories and reconnect.
Notable speaker events hosted at VFS during the week of SIGGRAPH 2011 include:
*         Sarah Alvarado, Senior Recruiter at Industrial Light & Magic
*         Jun Watanabe, Lighting Technical Director at Rhythm & Hues
*         MARI Sessions hosted by The Foundry
*         Lino DiSalvo, Supervising Animator at Walt Disney Studios
*         Krista Jordan, Recruiter at Animal Logic
"SIGGRAPH is known globally as the conference to attend in the animation and visual effects industry; to have it in our own backyard is a dream come true for VFS students and colleagues," says Marianne O'Reilly, Head of Animation & Visual Effects at VFS. "We are also looking forward to welcoming back our out-of-town alumni in a special event where they'll share stories and reconnect right after the SIGGRAPH week comes to a close."
SIGGRAPH 2011 will bring thousands of computer graphics and interactive technology professionals from six continents to Vancouver, Canada for the industry's most respected technical and creative programs, focusing on research, science, art, animation, music, gaming, interactivity, education and the web, from Sunday, August 7, through Thursday, August 11, 2011, at the Vancouver Convention Centre.
And the next from the folks at Siggraph itself:
MEDIA ADVISORY
Thousands of Filmmakers, Game Developers, Artists, Scientists, and Technology Experts Converge at SIGGRAPH in Vancouver Next Week
Who: SIGGRAPH 2011, the 38th International Conference and Exhibition on Computer Graphics and Interactive Techniques
What: Computer graphics, interactive exhibit areas, video game demonstrations, robotics installations, digital art galleries, live animation creation, an international film festival
When: Conference and Computer Animation Festival: August 7, 2011
Exhibition (200+ international companies): August 9, 2011
Registration is open to the public. Day and weekly passes are available for as inexpensive as $45 (US).
Where: Vancouver Convention Centre
Why: SIGGRAPH 2011 highlights the full spectrum of the $67 billion annual computer graphics industry, showcasing the world's finest technology exhibits, interactive displays, and the best in animation and visual effects. Numerous cutting-edge research and commercial products are shown to the public for the first time in interactive exhibit areas. Examples include:
·         Displays: Watch attendees interacting with cutting-edge 3D displays that will change their home theaters and video game experiences.
·         Robotics, Wearables, and Haptics: See people engaging with robots and stimulation devices such as a wearable pregnancy jacket that allows the user to feel a fetus' temperature, movements, and heartbeat.
·         Mobile Devices: Interact with the next wave of advancements in mobile technological devices such as a watch that turns your hand into a mini-keyboard.
·         Additional media opportunities include an interactive Art Gallery, performance and live design space as well as more than 200+ international exhibitors (including 34 Canadian companies.)
For a complete list of live interactive displays, exhibits, and programs, visit www.siggraph.org/s2011