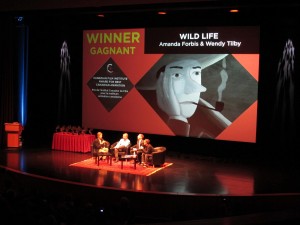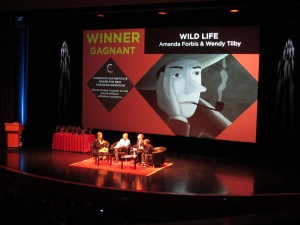 It's been a few days since the closing ceremonies, and I've been watching the ongoing slew of comments via Facebook and twitter as we all struggle through our post-festival recoveries.  As usual, there's a cold going around.  I've had reports of it here in Ottawa, and from colleagues in Brooklyn and Los Angeles.  The other virus appears to be friendship.  It's awesome to watch the Facebook feed pile up with so-and-so is now friends with whatsisname, knowing you were standing right next to them 5 days ago when they shook hands for the first time.
The winners have all been announced (congratulations), and the news has been shared.  We're all home, back to work, and trying to readjust to life as we know it.
I've been attending the Ottawa International Animation Festival since 1990, or 1992.  I'm not totally sure.  I love this event.  And I loved this year's maybe most of all.  People have said it over and over, but I'll echo it again here, there really is this feeling of a tribe gathering.  A lot of us work in solitude, from our homes. We do our freelancing, make films, or, in my case, run this website.  But once a year, from all over the planet, we converge on my hometown.  And every year, new people join the tribe.  It's crazy busy, no one sleeps enough, and your system gets accosted by equal parts alcohol and caffeine.  You see a dizzying variety of films, meet tons of your peers, some of your heroes, and smile a lot.  I tell everyone to be prepared to fall asleep at at least one screening, and get angry at at least one other.  It happens to me every time.  This year, despite an attack of the head bobs at one presentation, I managed to stay awake through everything.
This year I was really just an attendee.  I've volunteered before, or been busy hustling for work.  But timing was such that I found myself really, for the first time in years, just able to go along and enjoy the event.  TAC was first, that's the Television Animation Conference, to those who don't know.  It's all business, which I love.  I got to sit through Pitch This! for the first time, which by the way, was a great panel to end on.  The highlight for me was probably the day 2 keynote by Dino Stamatopoulus, comedic writer, creator of Moral Orel and Mary Shelley's Frankenhole, and probably best known as "Star-Burns" on NBC's, Community.  He gave the most low-key, deadpan, and awkwardly-received "inspirational" speech I've ever heard.  It included Andy Dick, lots of self-deprecation and references to borderline alcoholism, and a meandering tale of his work history, including his first job as a sperm donor.  He brought it full circle with a message of  "Do what pleases you" that almost had me off  my chair.  Strangely, no one else was laughing.
The animators picnic was a hit, but behind the scenes, the staff had to contend with a few hours of cleanup before it could even begin.  Returning to Strathcona Park after a change of venue last year, it was discovered that a flock of geese had taken up residence in our corner of the park.  They were easy enough to shoo away, but apparently, the goose poop they left behind filled a few bags.  Managing Director Kelly Neal was laughing about it by the time I saw here, but I've been told she wields an impressive scoop when called upon.
Gary Schwartz, who I finally got to meet this year, continued his tradition of actually making a film at the festival.  This year he did a bunch of prep work, so really, his main concern was finding a location and just shooting the thing.
Here it is:

Gary's been doing this for a while, and usually doesn't see the light of day while he's in town.  But this year, he was a lively presence at almost every event I attended.
It should be noted that Gary's not actually the first person to make a film while attending the festival, that honour goes to Jan Pinkava, who was also here this year.  Jan was inspired, back in 1998 by a peice of art he came across at the National Art Gallery.  With the help of a few Ottawa natives, including our own Rob Anderson, he put together this little stop motion piece, 67 Aluminum Plates.

One of the biggest draws this year was for the creators of the hugely successful Adventure Time.  I haven't seen it reported anywhere else, but Pen Ward really should have his leg looked at by a physician.  All I saw was a blood stained bandage wrapped around his calf, but he reportedly sustained the injury in question by jumping into the Ottawa River onto some rocks.  His limp was noticeable by the next day.  Really Pen, they close our beaches midsummer, that river ain't clean.  Also, healthcare is free here.
Closing ceremonies took a different approach this year, with Chris Robinson stepping out of the spotlight (for the most part) and handing over the reigns to Joel Frenzer and Alan Foreman, of the Frenzer Foreman Animation Forum podcast.  They opted for a talk show format that of course ran long, but enabled my personal high point of the entire festival and maybe of all the festivals ever in the history of festivals.  My daughter Rohan was on the kids jury this year, and she picked Joel's film T.H.I.R.S.T. as her favourite.  She was hilarious and totally deadpan and revealed an understanding of comedic timing that impressed the hell out of her old man.  I'll spare you guys that video though.
Oh yeah, there was also this:

Do with that what you will.
So thank you Ottawa Festival, for a great week.  For taking us all in, giving us places to eat, drink, talk, and "other".
Thank you Chris Robinson for watching 2000 films and picking out a bunch for us to watch.  Thank you to all the staff and volunteers including Dominique Forget, Azarin Sohrabkhani, Matt Rosen, Jennifer Zaret, Lynn Ringer, Daniel Kaunisviita, and Katarina Marojevic.  (I'm missing some, sorry) I think a lot of us assume their work is done when we go home, but they don't get a break right away.  When I went looking for a list of the winners on Tuesday, Daniel emailed me back asap.  I've seen firsthand how hard these guys work to give us this event, and they deserve more thank yous than we can give.
Oh, and a big thank you to Kelly Neal.  I understand she finally got some sleep.
Bye guys.  Seeya next year.