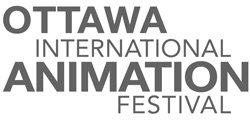 Grant Moore is blogging his experience at this year's animation festival.  I asked if it was ok to swipe his coverage, and he was generous enough to share.
OIAF – Day #1
Just got home from my first day at the 2011 Ottawa International Animation Festival. I didn't get to see too much since I had to work all day and was too tired to stay out late, however, here are my thoughts!
Feature – Colorful
This feature was a depressing, yet surprisingly beautiful, look at finding purpose and happiness in life through various relationships (friends, parents, siblings, etc…). I found myself actually tearing up a few times as the main character and events made it quite easy to relate to. Overall, I'd say of the features I've seen at previous OIAF's, this one is among the best, but probably not one I'd want to re-watch.
Short Comp 3
The short competitions are always my favorite part of the festival, but this particular selection didn't really excite me. Definitely a few shorts that were spectacular (see list below) but there were far too many "experimental" films for my tastes. Also, a few of the more artsy films weren't exactly "short"… so I ended up falling asleep a couple of time.
One Minute Puberty

One Minute Puberty from bitteschön.tv on Vimeo.
Definitely my favourite of this competition's selection. You won't regret watching it!
Bout

BOUT (2011 – HD) from Malcolm Sutherland on Vimeo.
When they announced this as yet another experimental film, I audibly groaned. Thankfully, I was pleasantly surprised by this one. Funny, entertaining and hypnotic!
I'm Fine Thanks

I wish the full film was available online, but I guess the trailer will have to give you a clue. It was a cute little, but sad, story of a man and how he sees himself versus reality. Particularly enjoyed when his head was all wobbly!
Moxie

I really couldn't figure out if I liked this one or not. It was absurdly weird, but funny at the same time. Again, wish I could find the full version, but the trailer will have to suffice!
Made You Cringe

A small collection of hilarious clips. I've linked the first one, they have more… just funny stuff really.
Summary
Overall, a pretty decent start. Sadly I was pretty much exhausted and had to skip out on the late-night animator party and teletoon's screenings (I also kind of wanted to be able to catch my bus and not have to walk home). Going to catch some sleep and looking forward to the festivities tomorrow!!
Thanks to Grant, for letting us swipe from his blog!