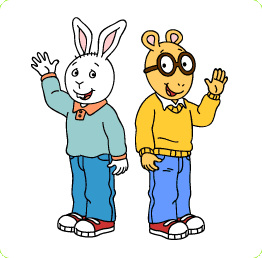 Toronto, Canada – September 20, 2011 – Vince Commisso, President and CEO of 9 Story Entertainment, is pleased to announce a new co-venture with WGBH Boston to produce the popular multiple award-winning children's series ARTHUR (20×30′), beginning with its 16th season, now in production.  Under the agreement, 9 Story Entertainment has also taken on international  distribution of the new season, slated to premiere in the US in fall 2012 on PBS KIDS GO!(r)
9 Story will digitally animate ARTHUR, which debuted fifteen years ago on PBS.  The company is committed to maintaining the series' celebrated standards of excellence, while also staying true to the elements that have made the show beloved by children and parents alike.  This is 9Story's third  collaboration with WGBH, having previously worked on the production of two of its popular children's series, Peep and the Big Wide World and Postcards from Buster.
"We are very proud to again partner with WGBH, the originators of Arthur, to both shepherd a refreshed production of this remarkable series and bring it to a new generation of children around the world," said Vince Commisso.  "We were thrilled with the opportunity to work on Peep and the Big Wide World and Postcards from Buster, and look forward to bringing the same enthusiasm and commitment to ARTHUR."
9 Story, one of the industry's leading producers of award-winning content for young  audiences around the world, has produced more than 500 half hours of quality children's and family programming to date. ARTHUR, one of television's most beloved children's series, will markits fifteenth anniversary  this fall with a season of ten new episodes beginning in October.
"We are delighted to expand our work with Vince Commisso and the 9 Story team to include  ARTHUR," said WGBH Senior Executive Producer Carol Greenwald. "As we prepare to celebrate our 15th anniversary, we are looking ahead at new and exciting ways to continue the ARTHUR legacy that will resonate with our existing viewers as well as our new audiences."
About ARTHUR The Television Series
Based on the best-selling books by Marc Brown, ARTHUR revolves around the adventures of an eight-year-old aardvark and his family and friends. ARTHUR has aired in 83 countries and is considered a phenomenon holding the title for one of the longest-running children's animated series in the U.S. It is the winner of four Emmy(r) awards for outstanding Children's Animation  Program, a BAFTA award, as well as a Peabody Award. ARTHUR is the only kid's show that shares screen time on four public broadcasters around the world, PBS KIDS GO! (U.S.), CBBC (UK), ABC(Australia), and TVO  (Canada). Cookie Jar Entertainment will continue to distribute the first 15 seasons of ARTHUR.  Corporate funding for the current season of ARTHUR is provided by Chuck E. Cheese's(r). Additional funding is provided by individual donations to local public television stations. For more information about the series, please visit
http://www.PBSKIDSGO.org/arthur.
About 9 Story Entertainment
9 Story Entertainment is one of the industry's leading creators, producers and distributors of award-winning content for young audiences around the world.  With an extensive animation studio in Toronto, 9 Story has over 150 creative and production staff, and has produced more than 500 half hours of quality children's and family programming, seen on some of the most respected children's channels and platforms around the world.    The company's distribution arm, 9 Story Enterprises, offers a rapidly growing catalogue which includes several beloved brands such as Wibbly Pig, Harriet the Spy: Blog Wars and Wild Kratts inaddition to innovative new  series such as Almost Naked Animals and Survive This. Their much anticipated new shows include the delightful Daniel Tiger's Neighborhood. www.9story.com
About WGBH Boston
WGBH Boston is America's preeminent public broadcasting producer, the source of one-third of PBS's prime-time lineup along with some of public television's best-known lifestyle shows, many public radio favorites, and a roster of children's programs that empower kids with innovative, entertaining, curriculum-based content. Among the WGBH produced children's titles: Arthur, Curious George, Postcards from Buster, Between the Lions, Design  Squad, Martha Speaks and Fetch! with Ruff Ruffman. WGBH is the number-one producer of websites on PBS.org, one of the most trafficked dot-org websites in the world, and a pioneer in educational multimedia and in technologies and services that make media accessible to the 36 million Americans who rely on captioning or video descriptions. WGBH has been recognized with hundreds of honors: Emmys, Peabodys, duPont- Columbia Awards . . . even two Oscars. In 2002, WGBH received a special  institutional Peabody Award for 50 years ofexcellence. For more information, go to www.wgbh.org.
About PBS KIDS GO!
PBS KIDS GO! offers early elementary children the opportunity to explore new ideas and new worlds through television, online and community-based programs.  For more information on specific PBS KIDS GO! content supporting literacy, science, math and more, visit PBS.org/pressroom, join our community online on Twitter and Facebook, or visit PBSKIDSGO.org.