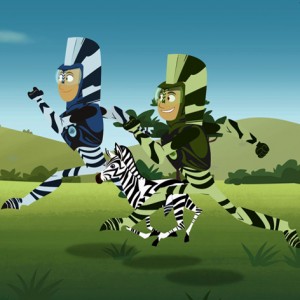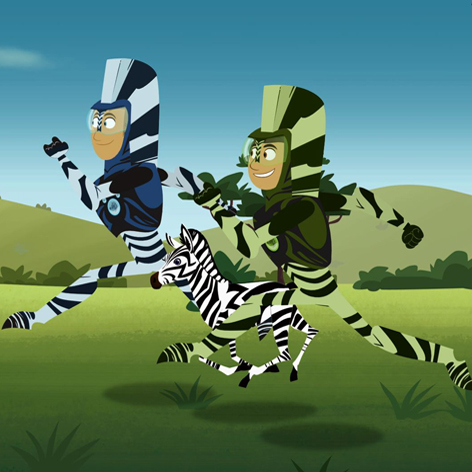 Toronto, Canada – September 20, 2011 –  Kratt Brothers Company and 9 Story Entertainment have received a second season order from PBS KIDS GO!® in the U.S. and TVOntario in Canada for an addition 26 x 22′ episodes of  the hit animated comedy adventure series Wild Kratts(tm).  The series was created and developed by real life brothers and zoologists Martin and Chris Kratt, who star in the show as animated versions of themselves.
A co-production between The Kratt Brothers Company and 9 Story Entertainment, Wild Kratts (40 x 22 minutes) is distributed in the US and Canada by Kratt Brothers Company, and  internationally by 9 Story Entertainment.
Wild Kratts premiered in January 2011 on PBS KIDS GO! in the U.S., and TVOntario, Knowledge Network and Télé-Québec in Canada. It has also been sold to Discovery Kids Latin America, Al Jazeera Children's Channel (Middle East),  NOGA (Israel), TV3 (Spain), SIC (Portugal) and Dublin Films (Ireland).
"An order for a second season from leading children's broadcasters PBS KIDS GO! and TVOntario underscores the enthusiasm among both programmers and young viewers for this engaging animated series," said Vince Commisso, President and CEO, 9 Story Entertainment.  "We are delighted to be producing new episodes for Wild Kratts' ever-growing audience of loyal fans round the globe."
"The reaction to the first season of Wild Kratt's has been fantastic," said Chris Kratt of  Kratt Brothers Company.  "We've been so happy with how quickly the show has caught on, and are delighted to continue the adventure with 26 more fun-filled stories featuring animal characters from around the world!"
Wild Kratts features Chris and Martin Kratt on incredible expeditions to meet wild creatures from the far corners of the earth.   Diving into the habitats of these unusual animals with the use of futuristic technology and Creature Powers Suits that allow the brothers to take their funny and exciting adventures to where they've never gone before.
Prior to Wild Kratts, Kratt Brothers Company created and produced two PBS children's series, the Parents' Choice Gold Award-winning Kratts' Creatures and the Emmy Award-winning Zoboomafoo. Their third show, Kratt Brothers: Be The Creature for National Geographic Channel, is a primetime family wildlife adventure series that has been broadcast in more than 150 countries around the world.
9 Story Entertainment is one of the industry's leading producers and distributors of award-winning content for young audiences around the world.  With an extensive animation studio in Toronto, 9 Story has over 150 creative and production staff, and has produced more than 500 half hours of quality children's and family programming, seen on some of the most respected children's channels and platforms around the world.    The company's distribution arm, 9 Story Enterprises, offers a rapidly  growing catalogue which includes several beloved brands such as Wibbly Pig, Harriet the Spy: Blog Wars and Wild Kratts in addition to innovative new series such as Almost Naked Animals and Survive This. Their much anticipated new shows include the delightful Daniel Tiger's Neighborhood.
Kratt Brothers Company, founded in 1993, has created and produced over 140 episodes of three award-winning television series: Kratts' Creatures, Zoboomafoo and Kratt Brothers: Be The Creature.  Through its full service animation house, Kratt Brothers Animation Studio is currently in production on its fourth series, Wild Kratts, which will premiere on PBS in 2011. The Kratt Brothers' national tours draw tens of thousands of creature-crazy kids and their families and the not-for-profit Kratt Brothers Creature Hero Society, together with kids, has successfully protected critical wildlife habitats through the creation of nature reserves. www.krattbrothers.com