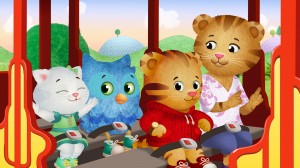 9 Story Entertainment Launches International Distribution of the anticipated new Animated Children's Series DANIEL TIGER'S NEIGHBORHOOD
Toronto, Canada – September 1, 2011 – Vince Commisso, co-founder and CEO of 9 Story Entertainment, is pleased to announce the launch of international distribution of the animated series Daniel Tiger's Neighborhood.   The new preschool series, inspired by a beloved character from Mister Rogers' Neighborhood, one of the longest running children's programs in the U.S, will offer engaging storylines modeling the core skills that form the foundation of early childhood development and school readiness.
Daniel Tiger's Neighborhood was developed by the acclaimed Fred Rogers Company, producers of Mister Roger's Neighborhood, in association with Out of the Blue Enterprises.  The Executive Producers of the series are Kevin Morrison for The Fred Rogers Company; Angela C. Santomero, cofounder of Out of the Blue and the creative force behind the hit series' Blue's Clues and Super WHY; and 9 Story's Vince Commisso.  9 Story will also be bringing its award-winning animation capabilities to the production.
The series is set to launch in fall 2012 on-air on PBS KIDS in the U.S. and CBC in Canada.
"Daniel Tiger's Neighborhood brings together some of today's leading creators of children's programming and educational technology, and we're very excited to be bringing this fresh and innovative series to audiences around the world," said Vince Commisso.
"Generations of children in North America have grown up with Mister Rogers as a trusted friend and guide," said The Fred Rogers Company's Chief Operating Officer Kevin Morrison.  "We're delighted to be able to extend his legacy to a new generation through the creative talents of Angela Santomero, Vince Commisso and the team at 9 Story."
Daniel Tiger's Neighborhood features Daniel, a shy but brave 4-year-old tiger who lives in the Neighborhood of Make Believe.  With help from his neighbors, family and friends – O the Owl, Prince Wednesday, Katerina Kittycat, and Miss Elaina – Daniel has fun while learning the key skills necessary for school and life.
9 Story Entertainment is one of the industry's leading producers and distributors of award-winning content for young audiences around the world.  With an extensive animation studio in Toronto, 9 Story has over 150 creative and production staff, and has produced more than 500 half hours of quality children's and family programming, seen on some of the most respected children's channels and platforms around the world. The company's distribution arm, 9 Story Enterprises, offers a rapidly growing catalogue which includes several beloved brands such as Wibbly Pig, Harriet the Spy: Blog Wars and Wild Kratts in addition to innovative new series such as Almost Naked Animals and Survive This. Their much anticipated new shows include the delightful Daniel Tiger's Neighborhood. www.9story.com
The Fred Rogers Company was founded by Fred Rogers in 1971 as the non-profit producer of Mister Rogers' Neighborhood for PBS. In the years that followed, it not only created hundreds of episodes of this much-loved program, but also extended Fred's values and approach to other efforts in promoting children's social, emotional, and behavioral health and supporting parents, caregivers, teachers and other professionals in their work with children. The Fred Rogers Company continues to build on Fred's legacy in innovative ways through a wide variety of media, and engaging new generations of children and families with his timeless wisdom. For more information, visit us at www.fredrogers.org .