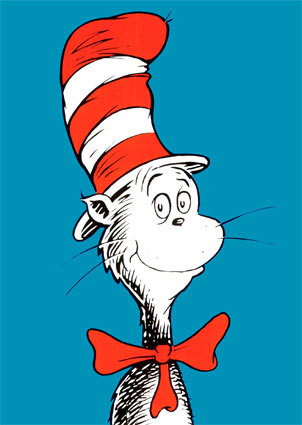 Toronto, CANADA – September 21, 2011 – Portfolio Entertainment & Collingwood O'Hare Productions are pleased to announce the commencement of production on the second season of the highly acclaimed preschool series "The Cat in the Hat Knows a Lot About That!".  In addition, lead broadcasters PBS KIDS (USA) and Treehouse (Canada) have commissioned a one hour Christmas special based on the series, scheduled to air during the 2012 holiday season.
CBC (Canada) has also signed on as a broadcast partner of the series. CBC commenced airing the first season episodes earlier this month.
This recent pick up brings the number of episodes of the series to 60 half hours.   "Since its launch last year, The Cat in the Hat Knows A Lot About That! has consistently ranked among the top-rated preschool shows on TV in the U.S.," said Lesli Rotenberg, Senior Vice President, Children's Media, PBS. "We are excited to continue to bring this series to America's children, helping foster a love of science and exploration in the next generation of kids,"
"Dr. Seuss was an iconic children's content creator," says Kim Wilson, Creative Head, CBC Children's & Youth Programming, "it's wonderful that his great work can live on in this way for a new generation of Canadian viewers here at the CBC."
Voiced by award winning actor Martin Short, The Cat in the Hat Knows a Lot About That! has consistently been a top ranking show on Treehouse (Canada) and PBS KIDS (USA). The series airs internationally in over 80 countries worldwide including  Disney Junior Australia, Spain, Italy &  Korea;  Discovery Kids Latin America, NRK (Norway), Hop!(Israel), &  MTV OY (Finland).  The series also offers interstitials and an accompanying online gaming component.
ABOUT THE CAT IN THE HAT KNOWS A LOT ABOUT THAT!
Dr. Seuss's beloved Cat in the Hat comes to television with a perfect blend of entertainment and education in the highly acclaimed series "The Cat in the Hat Knows a Lot About That!". Fuelled by curiosity and imagination, the Cat, best friends Nick and Sally, Thing One and Thing Two embark on extraordinary adventures into the natural world.
The Cat in the Hat Knows a Lot About That!  is a Portfolio Entertainment/Collingwood O'Hare Production, A Canada UK Co-Production produced with PBS (USA), Treehouse (Canada), in association with Dr. Seuss Enterprises and Random House Children's Entertainment and with the financial participation of the Canadian Media Fund, the Shaw Rocket Fund, and the Government of Canada.  The series is distributed by Portfolio International.
ABOUT PORTFOLIO ENTERTAINMENT
Portfolio Entertainment is one of Canada's leading independent producers and distributors of award-winning childrens, factual, and primetime content.  Founders Lisa Olfman and Joy Rosen's reputation for developing strong international partnerships and creating new business opportunities has landed their programming on some of the world's most prestigious television networks and digital content providers.
The company's distribution division, Portfolio International, represents over 2,000 episodes of animated and lifestyle programming. It's entrepreneurial approach to deal making, insight into market trends and emerging players, has benefitted the many independent producers it represents. Broadcasters worldwide look to Portfolio International for both high quality programs and exceptional service.
www.portfolioentertainment.com
ABOUT COLLINGWOOD O'HARE PRODUCTIONS
Collingwood O'Hare Productions was established in 1988 by Tony Collingwood (Writer/Director) and Christopher O'Hare (MD/Producer). The company has earned a prestigious international reputation as a creator and producer of award-winning, high-quality animated series, specials and television features. In 2001, 2002 and 2004 Collingwood O'Hare won BAFTA Awards for Best Pre-School Animation for Animal Stories, Eddy & The Bear and Yoko! Jakamoko! Toto!  Their most recent series for 7-12yr olds, The Secret Show, was a double BAFTA winner in 2007, scooping Best Animation and Best Interactive awards.  COP's other production credits include their multi-award winning debut film Rarg, Emmy nominated Dr. Seuss' Daisy-Head Mayzie, BAFTA nominated series Dennis & Gnasher from The Beano and Harry & His Bucket Full of Dinosaurs; plus The Magic Key, Oscar's Orchestra, Pond Life, The King's Beard and Gordon the Garden Gnome.