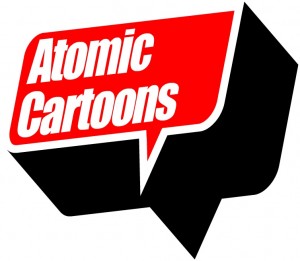 VANCOUVER, BC October 17, 2011 – Atomic Cartoons Inc. is proud to announce the addition of Jennifer McCarron to the studio's management team. An award winning animation producer, Jennifer Twiner-McCarron joins Atomic Cartoons as the Head of Production in October 2011. Over the past 15 years, Jennifer has produced or executive produced dozens of animated television series, video game cinematics, and direct to dvd features, including the popular Barbie Princess franchise with Mattel Filmed Entertainment. Jennifer holds a Bachelor of Journalism from Carleton University in Ottawa, Ontario, and a degree in film studies from the Vancouver Film School. Her career efforts have merited several Leo awards, an ELAN, and a DTV award, and she was voted one of the "Top 25 Women in Animation" by Animation Magazine in 2004. Jennifer's greatest achievement, however, is her family and she cherishes spending time with her six year- old daughter and two year old twins.
At Atomic Cartoons, Jennifer is Head of Production, tasked with the overall supervision of the in-house production teams.
"I am thrilled to be joining Atomic Cartoons at such an exciting time of growth for the company. The people at Atomic Cartoons are innovative and passionate about animation, and I am honored to be a part of this top notch team" said Jennifer McCarron.
"Atomic has proven creative muscle and has been looked at as a desired production partner and content developer. By adding Jennifer McCarron we've added a wealth of experience to our production team and invaluable 3D expertise as we build out that part of our business" said Trevor Bentley, President, Atomic Cartoons.
About Atomic Cartoons
Award-winning Atomic Cartoons is an independent full-service animation studio located in beautiful Vancouver, B.C., Canada. Atomic creates and produces animation for television series, commercials, music videos and features. Atomic Cartoons' partners Mauro Casalese, Rob Davies, Trevor Bentley and Rob Simmons head-up a landmark studio that includes some of Canada's most creative animators, directors, producers and writers. Adept at multiple genres and animation styles, Atomic Cartoons is recognized internationally as one of the leading animation studios in North America.
For more information contact:
Trevor A Bentley, President Atomic Cartoons