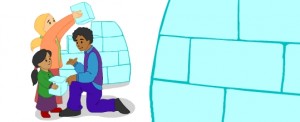 Torontonians looking for stuff to do over the holidays can take advantage of the following list of activities at the John Street location of the Toronto NFB Mediatheque:
Mediatheque on Ice
Family Animation Workshops
Looking for fun, affordable ways to spend quality family time over the holidays?  Try one of our popular holiday filmmaking workshops. There are so many to choose from that you can even try a new activity almost every day!
Saturday, December 3 at 12 p.m. & 3 p.m.
Sunday, December 4 at 12 p.m.
Winter Animals (3D Clay)
When winter comes around, many animals in Canada and other cold countries hibernate in the winter, only sometimes coming out for food. Animate the animals in Canadian forests.
Saturday, December 10 at 12 p.m. & 3 p.m.
Sunday, December 11 at 12 p.m.
Festival of Lights (Cell Animation)
Celebrate the festival of lights at home or around the world. Create a winter street scene at night, draw and paint in lights ornamenting the town streets.
Saturday, December 17 at 12 p.m. & 3 p.m.
Sunday, December 18 at 12 p.m.
Polar Bear Dip (Paper Cut Out)
Lots of animals like to take a dip in the cold Arctic water even in the wintertime. Animate polar bears, penguins or other Arctic animals taking a plunge in the icy ocean.
EARLY BIRD BONUS: Register in one of these early-December weekend workshops and have the added value of creating a unique animated holiday e-card to send to all of your friends and family.
From December 27 to January 8, Daily Workshops at 12 p.m. & 3 p.m.
Tuesday, December 27 –Fishy Business (3D Clay)
Try your hand at ice fishing just like they do in the North… without even having to step outside! What will you catch?
Wednesday, December 28 – Skate Mates (Pixilation)
You won't ever slip trying to do a double lutz or a triple salchow in this workshop where you're the star!
Thursday, December 29 – Our National Pastime (Pixilation)
Play hockey just like a pro… well, a pro helped out by the magic of animation! Our referees will show you what to do.
Friday, December 30 –  Watch Your Noggin on the Toboggan! (Paper Cut Out)
Hang on to your hats, scarves and mitts as your sled speeds down a steep hill.
Saturday, December 31 – We're Snow Angels  (2D Clay)
Ever made an angel in the snow? This workshop will let you make some extra heavenly creatures of all kinds.
Monday, January 2 – There's No People Like Snow People (3D Clay)
Snow people come in all sorts of different colours, shapes and sizes. Create your own one-of-a-kind frozen friend.
Tuesday, January 3 – Frozen in Time (3D Clay)
Make your own dazzling, crystalline sculpture. And the best part? Our ice won't melt!
Wednesday, January 4 – Igloopalooza! (3D Clay)
Build an igloo, a castle, or a snow fort… almost as if by magic!
Thursday, January 5 – Clear the Path (3D Clay)*
It's a snow day but how do you get outside to play with so much snow?
Friday, January 6 – Winter Carnival (3D Clay)
It's never too cold for a parade. Bundle up and join the procession.
Saturday, January 7 – Snowmobility (3D Clay)
Strap your characters in safely and start the race.
Sunday, January 8 – Snow Global Village (Object Animation)
Make sparkly snow sprinkle over any background you can think of. No shaking required!
$5/child, free for accompanying adults
Call 416-973-3012 to register for any of our animation workshops. Please arrive 15 minutes before your scheduled workshop to secure your spot.
Mediatheque on Ice doesn't stop there!
Free Holiday Screening Program at 2 p.m.
How to Build an Igloo, Free drop-in activity
Special Holiday DVD Discounts
Holiday Hours
Dec. 24 (12 – 5 p.m.), Dec. 27 – Jan. 8 (11 a.m. – 6 p.m.), Dec. 25 & 26, Jan. 1 (CLOSED), Jan. 2 (11 a.m. – 6 p.m.)
NFB Mediatheque (150 John Street, Toronto, Ontario, M5V 3C3)