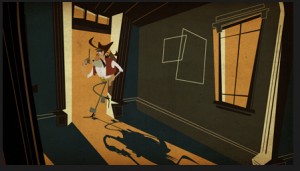 There have been quite a few noteworthy little films popping up online out of Vancouver Film School's classical animation program.  VFS has pretty quick turnaround, and a lot of their students are experienced animators from other country's who are looking to get into Canada to work.  Student visa's help a lot.  But it also means we get treats like this, Tough West, by Henrique Barone

About Henrique (from his site):
While studying Visual Design in UNESP (Brazil) I started attending the AnimaMundi Animation Festival, which inspired me to do independent shorts. This naturally turned Animation into my passion and professional choice. My first animation experience was as Flash Character Animator in the series "Fishtronaut". After that, I created and directed the series "Herbie & Gadgety", which was selected to AnimaTV (a brazilian public contest for new TV series) and had its pilot broadcast in TV Cultura. I also directed and produced "Anibal, the manager", a 12 episode web-series, shown weekly in Canal Rh, a web-portal about business and career.
In 2011, to further expand my skills, I studied Classical Animation at the Vancouver Film School where I created and directed "This Idea is Not Working" and "Tough West".
Here's what Henrique says about the film on his site:
TOUGH WEST is my VFS Flash Film. The main idea for this short was to make something with a specific mood, so I could study classic shots and educate myself with the cinematography language. Therefor, I decided to do a Western.
Mainly I took shot references from "Back to the Future III" and "Rango". I know it sounds weird that I haven't been through "The Good, the Bad and the Ugly"or "Once Upon a Time in the West", but I like but I like to think that I'm the third [or even further] generation of "Western moviemakers".
The other thing I absolutely love and wanted to explore more in this short, is the Graphic Style of the 50s, like UPA or Warner Bros. I'm amazed by how simple they are and still say everything.