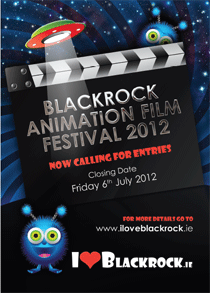 Call for entries for Blackrock Animation Film Festival 2012 Competition
Monday 27th February 2012
Details of the second Blackrock Animation Film Festival Competition were announced today (Monday) at a photo call in Blackrock.  Festival Director, Fionnghuala Ní Néill and President of the Institute of Art, Design and Technology (IADT), Dr Annie Doona were joined by Blackrock Business Network members to help launch the competition, now in its second year.
At the unveiling of the competition poster, the Festival Director called for entries and announced the deadline – Friday 6th July 2012.  Winning entries will be showcased during Blackrock Animation Film Festival 2012 (12th- 13th October) and prizes will be awarded at an awards ceremony (The BAFFAs).
Announcing the competition details and rules, Festival Director, Fionnghuala Ní Néill said:
"We were astounded at the level and quality of entries for our inaugural Festival so we are naturally very excited about this year. We hope that the Blackrock Animation Film Festival 2012 Competition will inspire people to develop and showcase their talents. We are planning a bigger Festival this year with even more screenings, talks and workshops to take place over the two day event."
Competition entry forms and rules are available on www.iloveblackrock.ie/animation-festival. Festival updates will be announced in the coming months on www.facebook.com/blackrockanimationfilmfestival and on Twitter, @baffa2012.