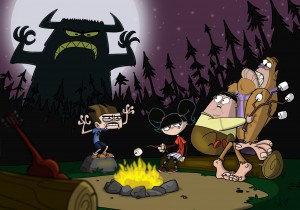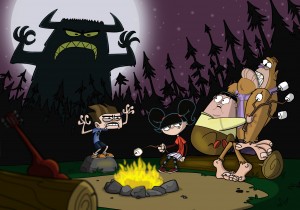 9 Story Entertainment acquires new animated series  Camp Lakebottom and Vivi from Skywriter Media
Toronto, Canada – February 13, 2011  – 9 Story Entertainment and Skywriter Media announce 9 Story's acquisition from Skywriter of two new children's animated series – Camp Lakebottom, which is being produced for TELETOON Canada and Vivi, a co-production with MIXER being produced for TVO.  The transaction will see 9 Story Entertainment taking over all production and distribution of the series.
"Camp Lakebottom and Vivi are a great fit for the 9 Story brand.  Not only are these terrific series' being produced for leading Canadian broadcasters with which we have wonderful relationships, both will be high quality, complimentary additions to our growing catalogue of internationally distributed content," said Vince Commisso, President and CEO, 9 Story Entertainment.
"We're excited to be working with the talented team at 9 Story and are confident in their ability to realize the creative vision we've developed for Camp Lakebottom and Vivi. Now Skywriter's plans to capitalize on global development opportunities and rapidly grow the interactive Skyreader division will be realized," said Kevin Gillis, Skywriter Media Executive Producer and CEO, who will remain attached to the projects as an executive producer.
Camp Lakebottom (52×11') is an animated comedy about 12 year-old, mastermind McGee and the most horrible summer camp in the world. The cabins are possessed, the lake is toxic, the forest creatures are mutants, the counselors are a danger to themselves and others, and the kids are having the time of their lives.
The series is stated to run on TELETOON in 2013.
Vivi (52×11') is an animated co-production with award winning Brazilian production company Mixer.  The series follows the wonderful adventures of 7 year Vivi who is taken on extraordinary trips to exotic places by her Grandma Rosa, a world famous photojournalist.  Vivi captures what she learns in her Memory Book, which uses a multi- platform approach to engage and interact with viewers. A key driver of the series is the online component that allows kids and their families to create their own Memory Books of their journeys – real or imaged – to share with each other.
About 9 Story Entertainment
9 Story Entertainment is one of the industry's leading creators, producers and distributors of award-winning animated and live-action content for young audiences around the world.  With an animation studio based in Toronto, 9 Story has over 200 creative and production staff, and has produced over 400 half hours of quality children's and family programming, seen on some of the most respected children's channels around the world across multiple platforms.  The company's distribution arm 9 Story Enterprises represents a growing catalogue which includes several beloved brands such as Wibbly Pig, Harriet the Spy: Blog Wars and Wild Kratts in addition to popular new series such as Almost Naked Animals and Survive This. Their much-anticipated new shows include the delightful Daniel Tiger's Neighborhood. www.9story.com
About Skywriter Media and Entertainment Group
Headquartered in Toronto, Skywriter Media and Entertainment Group is a fully integrated award-winning producer and distributor of original programming and content for all forms of traditional and digital media worldwide. Skywriter was launched in August 2009 as a company committed to the creation, development, financing, acquisition and distribution of quality children's and family entertainment for the global marketplace. Skywriter's shows include Atomic Betty; Miss BG; the development of Camp Lakebottom and Vivi; Roddenberry's Gene's Journals; and the Atomic Betty Movie. Conceived as a destination partner for the entertainment community, Skywriter is a one-stop source for producers of programming and broadcasters alike that nurtures the creative process and delivers the highest quality product to the global marketplace. For more information about Skywriter Media & Entertainment Group, please visit www.skywritermedia.com .