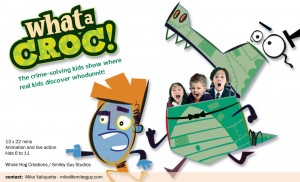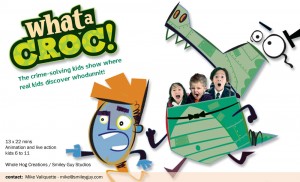 Ok, at the risk of appearing self-serving, here's a press release from the company I work for, quoting me.  Ah well, news is news.
Smiley Guys Go Whole Hog for What A Croc! Award-Winning Toronto Production Company Teams with UK's Whole Hog, Creators of Skatoony
New York, NY [February 10, 2012] — Toronto's Smiley Guy Studios has joined forces with
UK-based Whole Hog Creations to develop 26 half-hours of the crime-solving game show,
What a Croc! Combining live action and animation, Croc follows three real life kids on a comical adventure where they seek out the "whodunit" while concealed inside the world-famous detective, Croc Monsieur.
"Whole Hog Creations are absolutely thrilled to be working with Smiley Guy Studios on What a Croc!," says co-creator, James Fox. "The project is a perfect fit for our collective passions and expertise. Smiley Guy Studios brings their outstanding animation portfolio, fantastic production experience and passion as standard. They also bring fabulous ideas and oodles of fun, too. We are very much looking forward to the adventure to come."
Mike Valiquette, Smiley Guy's Director of Development added, "We've been working with the guys at Whole Hog for some time now on Skatoony, so this is an obvious and organic next step. James and Rich are hilarious, with a really distinct creative voice and such a clear understanding of what makes this kind of show work. We really can't wait to move this into production."
About Smiley Guy Studios
Smiley Guy Studios (SGS) is an award-winning, full-service production company with expertise in animation, design, writing, sound, music, and interactive media. Founded in 1998 by graduates of Norman Jewison's Canadian Film Centre, SGS has grown in size and capability, with expertise in vector- based animation, computer-generated imagery and multi-platform production. It produces its own original content while also collaborating with clients on a variety of animated TV, film and new media projects.
About Whole Hog Creations
Whole Hog Creations is a children's content company that combines enthusiasm and expertise to generate exciting new concepts of all shapes and sizes. Notably, Whole Hog created and produced the BAFTA-nominated, live-action/animated quiz-com, Skatoony; Cartoon Network UK's first full-length, in- house production. Skatoony has gone on to international success.