Last updated on March 23, 2012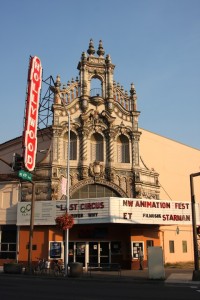 I really like the tone of this festival.  I haven't been, nor do I know anyone who has.  But just read the eligibility requirements.  Any animated film, from anywhere, made whenever, shown wherever.  It's the most inclusive thing I've seen in a long time.  They're still pretty new, and I hope they make a go of it.
April 1 is the final deadline to submit films for the 2012 NW Animation Festival. Entries from anywhere in the world are welcome. Films, entry forms, and payments can all be submitted online. There is a small entry fee, discounted for students. See website for details: www.nwanimationfest.com/2012-submit
The event will be held on May 18-19 at the historic Hollywood Theatre in Portland Oregon. Special treats this year include entries from 2012 Oscar contenders, work by sculptor/filmmaker John Frame (concurrently on exhibit at the Portland Art Museum), and a sneak peek into LAIKA's forthcoming feature film ParaNorman.
ABOUT THE FESTIVAL
Our goal is to bring great short films to Portland, and showcase the diversity of the animation world. All methods are represented: hand-drawn, computer-generated, stop-motion, pixilation, and experimental hybrids. All styles are welcome: hilarious, heart-warming, dark, cerebral, or abstract. We make a point of showing films both from masters and remarkable amateurs.
This is a festival created by animators, for animators, and all lovers of animation. We bring together and inspire a community of artists, and expand audiences' understanding of what can be done with the art form.
ELIGIBILITY
• Place of origin: Films may come from anywhere in the world.
• Length: Films may be of any length, short or long.
• Completion date: You may submit films made at any time during your life.
• Other festivals: You may show your work at other festivals simultaneously.
• Internet: You may show as much of your work online as you like.