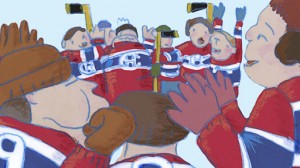 Too cool for school.
The Hockey Sweater. A movie for school at Jh picard in english class. 7a.
by: Max McPeak, Anthony Plettl, Luke Porter, Kael Tupper….
A Five Guys Production
And here's the NFB original, "The Sweater", by Sheldon Cohen, based on the book by Roch Carrier.
Thanks to Chris Robinson for the link.