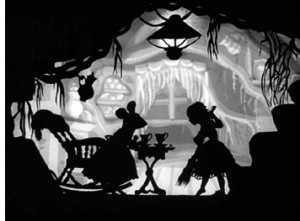 Brandy Dean, who interviewed me for Toronto Film Scene a few weeks ago, drew this to my attention today:
the Toronto Silent Film Festival kicks off tonight, and the program includes a screening of the short film Cinderella by Lotte Reiniger from 1922. Reiniger is pretty amazing, and she's responsible for the first feature length animated film, The Adventures of Prince Achmed (1926). All of her work is paper cut out silhouettes. It's really something.
Anyway I put a notice about tonight's screening on Pretty Clever Films http://prettycleverfilms.com/2012/03/29/lotte-reinigers-cinderella/. The festival includes some animation each evening as well, the complete schedule is here http://www.ebk-ink.com/tsff/the_film_schedule.html.
I took a quick peek, and they're also showing Koko and the Cartoon Factory, a 1925 Fleischer Studios production, The Cameraman's Revenge, from 1912, by Ladislaw Starewicz, and a few more cartoons to be announced.
Thanks Brandy!
m