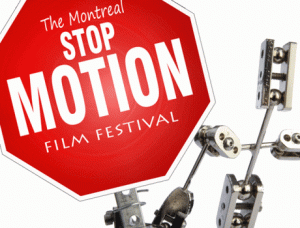 Call for entries!
Montreal– Monday March 26, 2012– The Montreal Stop Motion Film Festival is proud to announce the official opening of its call for entries for the Festival's fourth edition, taking place on October 19, 20 and 22, 2012 at Concordia University's J.A. de Sève Theater (1453 Mackay Street, Montreal).
As the festival ramps up, we will be making announcements and sharing information about the upcoming edition via our brand new web site. Be sure to check back often as we will continue to add photos, videos, and other goodies from previous editions.
http://stopmotionmontreal.us4.list-manage.com/track/click?u=4e86a5555888ad8ed117b04e1&id=1b14a2f518&e=cff82d8bbd
The festival is inviting all filmmakers of this unique art form to submit their latest masterpieces in any of the three competitive categories: Independent, Academic, and Professional.
Please have a look at the new submission section of our website for information concerning eligibility, dates, accepted formats, and new rules.  While you're there, you can also fill out the on-line entry form in order to submit a film.
The deadline for film entries is September 21, 2012.
It's also easier to stay up-to-date on our latest developments by subscribing to our newsletter, liking us on Facebook, or following us on Twitter!
We can't wait to see you in October for what's sure to be the coolest festival around!
Cinematographically yours,
Erik H. Goulet
Festival Director
__________________________________________________________________
L'appel de candidatures est lancé!
Montréal, le lundi 26 mars 2012– Le Festival du Film de Stop Motion de Montréal est fier de lancer son appel de candidatures de films pour la quatrième édition du festival qui se tiendra les 19, 20 et 21 octobre 2012 au Théâtre Alexandre de Sève de l'Université Concordia (1453 rue Mackay, Montréal).
Au cours des prochains mois, nous dévoilerons les dernières nouvelles sur notre nouveau site web. Nous continuerons d'ajouter de l'information, des photos et des vidéos dans les différentes sections, alors revenez souvent!
http://stopmotionmontreal.us4.list-manage.com/track/click?u=4e86a5555888ad8ed117b04e1&id=f7c398e7a2&e=cff82d8bbd
Le festival invite tous les cinéastes de Stop Motion à soumettre leurs productions dans une des trois catégories compétitives : Académique, Indépendante ou Professionnelle.
Consultez le site Internet, sous la section inscriptions qui répondra à vos questions sur l'admissibilité, les dates, les formats acceptés ainsi que les nouveaux règlements. Vous pourrez par le fait même remplir notre fiche d'inscription en ligne!
Le délai pour soumettre un film expire le 21 septembre 2012.
Inscrivez-vous dès maintenant à notre infolettre ou encore branchez-vous sur Twitter et Facebook pour être à l'affût des derniers développements concernant l'événement tant attendu.
Joignez-vous à nous pour le festival le plus tripant en ville!
Cinématographiquement vôtre,
Erik H. Goulet
Directeur du Festival