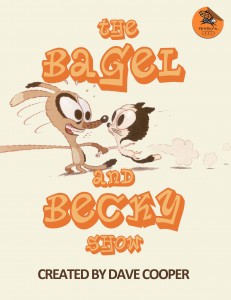 Toronto, Canada – March 29, 2012 – TELETOON and Radical Sheep Productions have entered into a development deal for an animated comedy based on the book Bagel's Lucky Hat by the world-renowned fine artist Dave Cooper (a.k.a. Hector Mumbly).
The Bagel and Becky Show is an 11-minute comedy for kids 8-11 about Bagel and Becky, a brother and sister who just happen to be a dog and a cat, who leave the house each day and usually end up any place other than the spot they were headed to. For them, the shortest distance between A and B also include points Q, BBB, a gassy pogo stick and a goo fight in 3,000,000,000 BC.
"We are so thrilled to be working with Dave Cooper to adapt his incredible book and characters to the screen and beyond. We've put together a strong team and we are excited to be working with TELETOON," says John Leitch, President of Radical Sheep.
The show is being developed by Radical Sheep producer Michelle Melanson and creator Dave Cooper in association with Jam Filled Entertainment (Camp Lakebottom, Crash Canyon).  Ken Cuperus (Mr. Young, My Babysitter's a Vampire), Adam Rotstein and Doug Hadders (Sidekick, Almost Naked Animals) are attached as showrunners/writers.
"Just like Dave Cooper, The Bagel and Becky Show is a true original: his brand of surrealism and wonderful illustrations are the perfect fit for TELETOON … where anything can happen," said Alan Gregg, Director, Original Content. "This will also be our first time working with Radical Sheep and we couldn't be more excited."
Radical Sheep will be at MIPTV, April 1st-4th 2012.