press release:NFB'S ROMANCE NAMED BEST ANIMATED SHORT AT 32nd GENIE AWARDS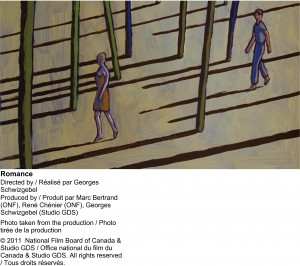 Toronto, March 9, 2012 – The National Film Board of Canada (NFB) added to its roster of more than 90 Genie Awards on Thursday, with the Academy of Canadian Cinema & Television naming Romance as the top Canadian animated short film for 2011.
In Romance, by virtuoso animator Georges Schwizgebel, a plane hits turbulence and a man's spirit plunges into a different world. Here, his desires take control and the result is a grand romantic saga. Romance masterfully marries swirling movement with a Rachmaninoff scherzo, erasing the boundary between dreams and reality. Produced by Marc Bertrand for the NFB and Georges Schwizgebel for Studio GDS.