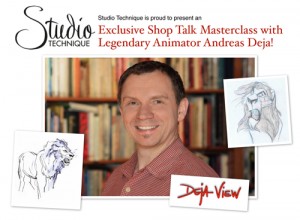 From the website:
This is a once in a lifetime opportunity to learn from the internationally renowned and award winning animator Andreas Deja!
About Andreas Deja
Andreas Deja has worked at Walt Disney Feature Animation for 30 years. He has created some of the most memorable characters animation has known, and has worked on several Academy Award winning films. He is also one of only a few animators the Disney Studio has authorized to draw Mickey Mouse.
Andreas is a recipient of the Winsor McCay Award for outstanding contribution to the art of animation, presented in 2006 at the 35th Annie Awards. He is responsible for many of animation's famous characters, including Roger Rabbit, King Triton, Gaston, Scar, Jafar, Hercules, Lilo, and Mama Odie. He is also the creator of the world famous blog Deja View. Andreas is one of the industry's leading animators, respected by his peers all over the world for his remarkable influence on the art form.
Visit his blog at www.andreasdeja.blogspot.com.
About the Masterclass
Proceeds from this event will go towards expanding the studio in Montreal.
There are two options for the masterclass weekend:
1) The one-day Animation Intensive Seminar, held in downtown Montreal (June 2, 2012).
2) The two-day option which includes the Animation Intensive Seminar (June 2, 2012) as well as an exclusive full day Life Drawing Class (June 3, 2012) with hands-on feedback from Andreas, on location at Studio Technique. Please note that the 2 day option is available to a maximum of 15 people, space is very limited!
Techniques covered are not software-specific, and all lectures are accompanied with visual presentations. This exclusive and rare masterclass will not only inspire and entertain, but also provide you with the tools and techniques needed to create story telling, feature quality character animation.
Please note, the event will be held in English.
Day 1 – June 2, 2012
Animation Intensive Seminar:
Day starts with Continental Breakfast and Registration.
The masterclass will take place from 9am to 5pm.
There will be two coffee breaks served with refreshments.
The Hyatt Regency is located in the Complexe des Jardins, where a wide variety of restaurants are available.
The event includes a cocktail party from 5pm to 8pm, where there is an opportunity to talk with Andreas in person.
Day 2 – June 3, 2012
Life Drawing Class (limited to 15 artists)
The Life Drawing Class runs from 10:00am to 5:00pm.
The class will go through principles of design and observation, including animal studies and costumed models.
This day also includes catered lunch and dinner at a designated restaurant with Andreas to wrap up the day.
About Studio Technique
Studio Technique is an artistic training studio for professional and amateur artists, focusing on drawing and animation. Studio Technique has devoted the last 2 years to building a community and space for artists and animators in Montreal. The studio is built on the love, support, and efforts of those that believe in it. The proceeds from this fundraising event will go towards expanding the studio and future animation projects. Please visit us at
www.studiotechniquemontreal.com
About Montreal
The event will be held at the Hyatt Regency Montreal, right between downtown and Old Montreal. Montreal is alive 24/7, and is home to internationally famous Cirque du Soleil, who are running their new show at their big top tent in Old Montreal this spring. Montreal offers great restaurants, and celebrates many festivals during the summer months such as the International Jazz Festival and the Juste Pour Rire comedy festival. Formula 1 is also in Montreal the week following the event.
Enrollment is limited! Act now!
PRICING
http://www.studiotechniquemontreal.com/events/