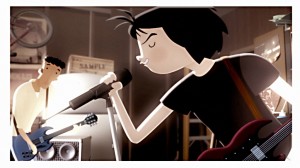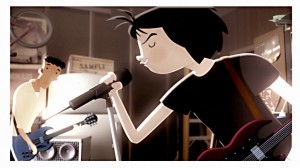 I'm so glad Sam Chou has finally decided to share this.  It's a trailer he produced to pitch a show called "Garage".  Sam's an outstanding director, and he put together a great little team for this.  It was produced with a real balance of artistry and economy, almost perfect in that respect.
It's also an example of something that happens all the time in this business.  Call it coincidence, creative synergy, whatever, but if you've got an idea, chances are someone else has a similar one.  We showed you a link a few days ago to FreshTV and Neptoon Studios' new show "GrojBand".  Two skilled creative teams, developing similar properties, completely independently.  Both taking very different approaches to similar subject matter.  They both look great, and I'm a big fan of the Neptoon guys, but I'd love to see Sam's gentler brand of comedy on a screen too.  Sam references the Wonder Years as a big tonal influence.  We don't see a lot of that in cartoons, and I'd really like to.
Here's Sam himself, sharing his thoughts on the show:
As for the Garage inspiration, I'd always wanted to do a show where music was a central theme, and when GLEE took off like a rocketship, I gained a bit of confidence and started pitching it.  Luckily, Chuck Gammage was immediately on board with the idea.  The show idea was basically The Wonder Years meets punk Rock with a dash of a teen angst and romance.  (Yes,The Wonder Years was my favorite show as a kid). All that in one major setting, The Garage.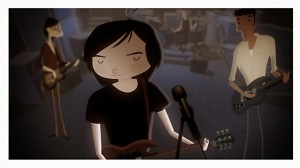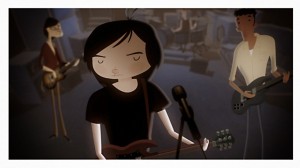 Choosing Seo Kim as the designer was an easy choice. Chuck hired her a year earlier as an intern to work on some IP with Graham Falk.  The stuff they came up with was really quirky and awesome.   I mentally bookmarked her for a future project(s).
The music.  Ta2 Music is a studio I was introduced to while directing my first Snap, Crackle, Pop! commercial. The first thing I noticed about Steve Gadsden (from Ta2 Music) was that he had a fiery passion similar to mine. He keeps himself very busy with compelling projects and can rock out like it's nobodys business.  He's very good at what he does.
The process?  Flash with AE and CG BG's.  We pretty much modeled ONE garage and chose our camera angles later.  It was our intent that if this ever became a series, we could save a lot of dough and cut production costs by having most of the show happen in this one CG environment.  
Phew.  It feels good to finally talk about it after 3 years of development secrecy.
Well, if this never makes it to mainstream broadcast, at least Sam decided to finally share it with us here.
Enjoy.

"Garage" – TV series from Sam Chou on Vimeo.
Five friends
Five musicians
One garage
WE WILL NOT BE QUIET.
G A R A G E
Adrian and his four friends don't quite fit in anyplace,
but THE GARAGE, where the frustrations of school,
bullies and your usual teen angst can be drowned
out with guitars, drums and vocals.
S E R I E S S Y N O P S I S
Ever since Adrian has been able to walk, talk, and hold an electric guitar,
his one and only ambition in life is to be in a world- renowned rock band.
No feeling could possibly come close to that of being in front of
thousands of adoring fans, chanting your name, hanging on to your every
word, buying your t-shirts and albums like ravenous scavengers.
But first, he has to make it through high school.
In development with Chuck Gammage Animation
Created and Directed by Sam Chou www.style5.tv
Produced by Chuck Gammage www.cganim.com
Character Designer: Seo Kim http://blog.instantdoodles.com/
Mix and Music by www.ta2music.com/
m