Last updated on April 5, 2012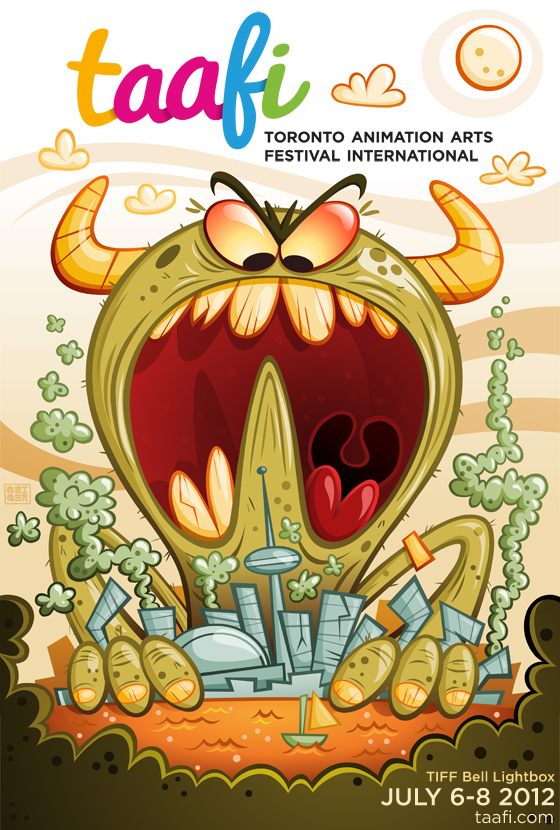 TORONTO ANIMATION ARTS FESTIVAL INTERNATIONAL LAUNCHES OFFICIAL FESTIVAL POSTER AND WEBSITE
Toronto, ON   April 4, 2012 – Set to be Canada's premier mainstream animation festival, the Toronto Animation Arts Festival International (TAAFI) is launching their inaugural event July 6-8, 2012 at the TIFF Bell Lightbox.   Today they unveiled the official TAAFI 2012 poster created by Toronto's own internationally celebrated designer, Mike Geiger.
Mike Geiger has worked in commercial animation for over a decade with specialties ranging from animator to director. He has also produced various independent works, such as the short "Transistor Sect" with artist Ed Templeton; two films in conjunction with the National Film Board; the short "Viewing Abstract"; five episodes of the web series "County Ghost"; and "Cuddle Sticks", which has been screened at more than 20 animation and comedy festivals worldwide including a tour with the Spike and Mike's Festival of Animation.
"I'm really honored to be a part of TAAFI's inaugural year and look forward to a weekend of great people and inspiring films!" said Geiger.
TAAFI Marketing Director Rich Duhaney is thrilled with the poster design.  "Mike Geiger is a hilarious and talented illustrator, effectively bridging the gap between the 'indie' and studio worlds of our industry," said Duhaney. "The poster Mike created signals the high impact we wanted to arrive with our the inaugural festival."
In coordination with the unveiling of the poster comes the launch of the brand new website, taafi.com.  Designer Iris Wu and web developer Nick Boos have created a site that gives TAAFI the professionalism and personality that has substance.
"No one will believe this is the site of a first-year not-for-profit festival," said Duhaney.  "Animation arts enthusiasts will want to subscribe to the newsletter and blog to get the latest on what our partners in the city are up to as well."
The website taafi.com goes live on Wednesday, April 4, 2012 and features the debut of the official poster of Toronto Animation Arts Festival International's inaugural year.