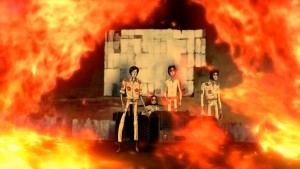 Directed by Mike Roberts, music by the Sadies.
A young man whose life has just ended in a fiery racing accident is guided by four rockabilly band spectres who lead him, through a netherworld of lost souls, to either heaven or hell.
Won best animated short the Atlanta Underground Film Festival. Screened at the CFC's Worldwide Short Film Fest, the Ottawa International Animation Fest, and at Shorts Under the Stars in Toronto.