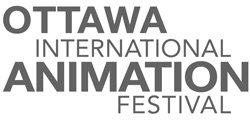 (REPOSTED FROM: February 8, 2012) – The Ottawa International AnimationFestival (OIAF) is pleased to announce its worldwide call for entries for its 2012 festival, taking place September 19 to 23 in Canada's National Capital Region.
Animators are invited to submit their recent work into five major categories including: Independent short films, feature films, commissioned films (TV series, commercials, music videos and video game animation) student films and films made for children.
The OIAF is recognized as one of the world's most competitive film festivals, receiving more than 2,000 entries annually. The Festival's selection committee chooses approximately 150 films for competition and out-of-competition showcase screenings.
The Festival's international jury: Barry Purves (England), Hisko Hulsing (Holland), Izabela Rieben (Switzerland), Mike Fallows (Canada), J.J. Sedelmaier (USA) and Sarah Muller (England) will review films in competition. Jury members will join the audience during screenings throughout the Festival and present the final awards at the closing ceremonies.
The OIAF is also introducing a new category for Non-Gameplay Animation, the first of its kind at any animation festival. Examples of non-gameplay animation include cinematic cut scenes that help advance a game's plot and trailers previewing an upcoming release.
"Since the mid-1990s, we've been trying to find a way to seamlessly integrate videogame animation into OIAF competitions, " says Festival artistic director Chris Robinson. "We found that the best way for us to acknowledge the outstanding work being done in gameplay animation was by encouraging the submission of non-game play components."
A new award for Best Canadian Student Animation Film, celebrating the work of emerging filmmakers and the wealth of up-and-coming Canadian talent, will also be introduced. Canadian student films in competition and showcase will be eligible for this award.
All online entry forms for this year's competition must be received by May 18th. The deadline for preview DVDs is June 1st. There is no entry fee.
For more information about this year's Festival, as well as the online entry form, visit the OIAF website at 
www.animationfestival.ca
.  Questions about submitting a film may be sent to entries@animationfestival.ca or made by telephone at 613-232-8769.
The Ottawa International Animation Festival (OIAF) is one of the world's leading animation events providing screenings, exhibits, workshops and entertainment since 1976.  OIAF is an annual five-day event bringing art and industry together in a vibrant hub and attracting more than 28,000 artists, producers, students and animation fans from around the world. For more information, visit the OIAF website at:
www.animationfestival.ca
.