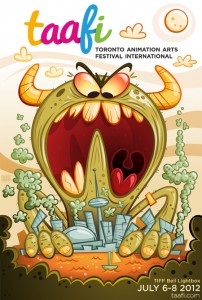 Looks like the selection process is over for the inaugural edition of the Toronto Animation Arts Festival International (TAAFI).
Here's the word:
Submissions came in from across the globe for the inaugural event and the competition was thick, making the selection process a hard one.  This exciting line up of shorts will guarantee an incredible weekend of fun and enjoyment, bringing you some of the best in original storytelling and animation the world has to offer. BUT THAT'S NOT ALL!  Stay tuned as we will be announcing our full festival line up including:
   – VIP guest speakers,
   – Retrospectives,
   – Partner screenings,
   – Panels, worshops & masterclasses
…and even a party or two!
Congratulations to the selected film makers and we are appreciative to all submitters for 2012.
Tickets go on Sale June 1st, visit taafi.com for details.
You can see the full list of films here!
I recognize a lot of the names on the list, should be a good show.