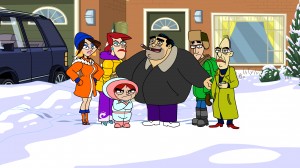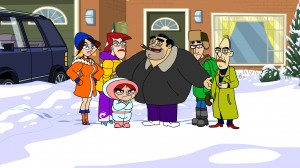 Toronto, Canada – June 12, 2012 – 9 Story Entertainment announces its animated primetime comedy series Fugget About It (13 x 22′) has been renewed by TELETOON Canada for a 2nd season of 13 new episodes for Fall 2013.  Originally developed for the 2007 TELETOON at Night Pilot Project, Fugget About It season 1 premiere will air later this year.
"This is 9 Story's first foray into primetime animation and we're thrilled to have a second season of Fugget About It greenlit by TELETOON prior to the series launch," said Vince Commisso, President and CEO 9 Story Entertainment.
"Fugget About It brings our viewers a hilarious dose of Canadian humour," said Alan Gregg, Director, Original Content, TELETOON Canada Inc. "This  original series offers a look at Canada through the eyes of a not-so-traditional American family, which we know our TELETOON at Night audience will love."
Jimmy Falcone was once a feared capo in the Gambini crime family, but when his associates insisted he whack his good old Uncle Cheech, Jimmy had to draw the line. When Jimmy pleads for Cheech's life to Don Gambini, their meeting ends with Jimmy hurling the crime boss out of a nineteen story window. Now with the mob out to kill him, Jimmy has no choice but to turn to the dark side and become a witness for the Feds. Jimmy and his family are sent into witness protection in cold, snowy Regina, where it's hard for a quick-tempered goodfella to live as a regular schnook among naïve and friendly Canadians.
The series was created by Nicholas Tabarrok and Willem Wennekers, and developed by Jeff Abugov. Executive producers are Nicholas Tabarrok, Willem Wennekers, Jeff Abugov and for 9 Story, Vince Commisso and Steven Jarosz.  9 Story also handles international distribution. Series guest stars include Alan Thicke, Andrea Martin and Jason Jones (The Daily Show with Jon Stewart).
This year marks the busiest production slate to date for 9 Story, with 8 animated series in production including international hit comedy Almost Naked Animals (season 2 and 3), Wild Kratts (season 2), the digitally refreshed Arthur (season 16), Max & Ruby (season 5), Daniel Tiger's Neighborhood, Fugget About It, and recently new shows Camp Lakebottom and Vivi.
About 9 Story Entertainment
9 Story Entertainment is one of the industry's leading creators, producers and distributors of award-winning animated and live action content for young audiences around the world.  With an extensive animation studio in Toronto, 9 Story has 200 creative and production staff, and has produced over 600 half hours of quality children's and family programming, seen on some of the most respected children's channels and platforms around the world.  The company's distribution arm, 9 Story Enterprises, offers a rapidly growing catalogue which includes several beloved brands such as Wibbly Pig, Harriet the Spy: Blog Wars, Wild Kratts, Almost Naked Animals, and a new season of Arthur. Their much anticipated new shows include Daniel Tiger's Neighborhood, Camp Lakebottom and the primetime animated comedy Fugget About It. www.9story.com