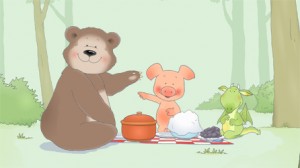 9 Story announces acquisition of Wibbly Pig by 24-hour preschool television channel Sprout(r)
Toronto, Canada – June 19, 2012 – 9 Story Entertainment announces the acquisition of preschool animated comedy series Wibbly Pig (26×22′) by 24-hour preschool television channel Sprout.
"We are thrilled that Wibbly Pig will be joining Sprout's highly respected line-up of preschool programming," said Natalie Osborne, EVP Business Development, 9 Story Entertainment.
"We love that Wibbly Pig echoes the way preschoolers really act and play," said Andrew Beecham, senior vice president of programming at
Sprout.  "Our educational philosophy at Sprout – Real Life Learning – uses the familiar framework of a young child's day, relationships and
experiences to further learning opportunities found in everyday moments…and Wibbly Pig compliments our philosophy perfectly."
Wibbly Pig takes the daily routine of a young child and finds humor and fun in every part of it.  9 Story co-produced the series with Wish Films
(UK), which was originally commissioned by the BBC's Cbeebies, TVO and Knowledge Network.  The series is based on the hugely successful Wibbly
Pig books by Mick Inkpen, which have sold over 2.2 million copies worldwide.  The series is currently seen in over 100 countries.
Wibbly simply does what children do – from day to day activities like getting into bed, wrapping a present or climbing a tree, to fantasy play
like meeting a giant or going to the moon.  He moves seamlessly in and out of fantasy play, echoing the way children really interact and play.
The simplest tasks are turned into a comedy routine, which Wibbly shares with his very best friend – the viewer.
9 Story Entertainment is one of the industry's leading creators, producers and distributors of award-winning animated and live action content for young audiences around the world.  With an extensive animation studio in Toronto, 9 Story has 200 creative and production staff, and has produced over 600 half hours of quality children's and family programming, seen on some of the most respected children's channels and platforms around the world.  The company's distribution arm, 9 Story Enterprises, offers a rapidly growing catalogue which includes several beloved brands such as Wibbly Pig, Harriet the Spy: Blog Wars, Wild Kratts, Almost Naked Animals, and a new season of Arthur. Their much anticipated new shows include Daniel Tiger's Neighborhood, Camp Lakebottom and the primetime animated comedy Fugget About It.  www.9story.com
About Sprout(r)
Available in over 50 million homes, Sprout is the first 24-hour preschool destination available on TV, on demand and online for children ages 2-5 and their parents and caregivers.  The 24-hour digital channel, which launched in September 2005 along with the website (www.sproutonline.com ), is the only channel that follows the day of a preschooler from breakfast to bedtime with its distinctive, interactive programming and original hosted blocks. Sprout's VOD offering is the #1 on demand service for younger children with over one billion views. Sprout is a partnership among NBCUniversal, PBS, Sesame Workshop and Apax Funds.  Its program lineup of gold-standard, curriculum-based preschool shows includes:  Sesame Street(r), Bob the Builder(tm), Barney & Friends(tm), The Wiggles(r), Caillou(r), Pajanimals(tm), Thomas & Friends(tm),  LazyTown(tm), and more.