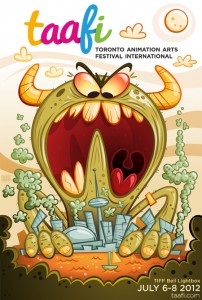 CALLING ALL BUDDING ANIMATORS, WRITERS AND CREATIVES WITH BIG IDEAS!
REGISTRATION OPENS TODAY FOR PITCH-A-PALOOZA
Toronto, ON (June 18, 2012) ­ Today, the Toronto Animation Arts Festival International (TAAFI) announces an animation-focused pitch event, Pitch-a-Palooza, and two supporting events, Pitch Lab and The Monkeyworks. TAAFI, widely supported by Canada¹s animation community, is the inaugural three-day festival celebrating the best of animation arts from around the world from July 6 to ­ 8 at the TIFF Bell Lightbox.
For complete programming information, go to: http://taafi.com/events/taafi2012/schedule/
To prepare for the golden opportunity of five-minutes with a studio executive, Pitch Lab and The Monkeyworks are not-to-be-missed.
Pitch-a-Palooza is where the animation projects of the future will start their life.
Pitch Lab ­ Wednesday, July 4th, 6 – 9 p.m., NFB Mediatheque , 150 John St., Toronto
Pitch Lab teaches the Pitcher what it takes to really sell an idea. Industry veterans and development executives will share what they want and don't want to see and hear in a pitch. They'll also reveal what types of projects their studios are investing in this year. Following Pitch Lab, Pitchers will chose which three of the 15+ animation industry executives they want to meet one-on-one at Pitch-a-Palooza at the Lottery Registration (9 – 10 p.m.).
The Monkeyworks ­ Thursday, July 5th, 7 – 9 p.m., Arc Productions, 230 Richmond St. E. Toronto
The Monkeyworks introduces storytellers to the most powerful storytelling tool there is: the braintrust. This workshop is an innovative open-forum for creatives to put into practice what they learned at Pitch Lab, hone their ideas, and gain invaluable feedback from their peers in advance of the big
event.
TAAFI Pitch-a-Palooza – Saturday, July 7th, 11 a.m. – 5 p.m., Metro Hall, 55 John St., Toronto
At Pitch-a-Palooza, Pitchers will have the opportunity to meet face-to-face with some of Canada's top animation and development executives working in the field today. Each Pitcher will have at least three meetings set-up with the executives they'd like most to meet from among 15+ participating studios.  Confirmed today are Brenda Nietupski, President, Little Tugboat Productions; Michelle Melanson, VP Production and Development, Radical Sheep Productions Inc.; J.J. Johnson, Executive Producer, Sinking Ship Entertainment;  and John May, Executive Producer, Heroic TV. More names will be announced at taafi.com and on Facebook and Twitter over the coming weeks.
Online registration for TAAFI Pitch-a-Palooza is now open. The $90 admission fee includes Pitch Lab, The Monkeyworks and the main event, Pitch-a-Palooza. Once registered through the TIFF Box Office, Pitchers will be contacted directly by a member of the Pitch-a-Palooza team with further event details.
All TAAFI tickets are available for purchase by phone or online through the TAAFI website  www.taafi.com
About the Toronto Animation Arts Festival International (TAAFI)
Set to become Canada's premier animation festival, the Toronto Animation Arts Festival International (TAAFI) is launching in July 2012 at the TIFF
Bell Lightbox to celebrate the many forms of animation, including long- and short-format film and television, gaming and interactive, and the industry that creates the animated arts.
For more information visit: www.taafi.com